Quinby Plantation – Huger – Berkeley County
---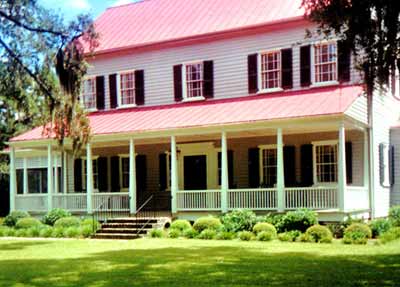 — Quinby Plantation house after moved to Halidon Hill Plantation © Brandon Coffey —
Basic Information
Location – Eastern branch of the Cooper River, Huger, St. Thomas and St. Denis Parish, Berkeley County

Located off SC 41 on Cainhoy Road

Origin of name – It is believed John Ashby named his plantation in honor of his ancestral home, Quenby Hall, in Leicester, England (Ashby Ancestry).

Other names – Queenbe, Queen Bee, Quenby

Current status – The house was moved to Halidon Hill Plantation in 1954.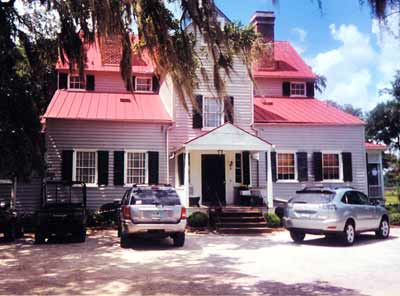 — Rear of Quinby Plantation after moved to Halidon Hill Plantation © Brandon Coffey —
Timeline
1681 – Earliest known date of existence

Land grant to John Ashby

1792 – Roger Pinckney rebuilt the house.


1950 – Sold to lumber company


1954 – House moved to Halidon Hill Plantation

The property retains the foundation of the house that was moved.

Land
Number of acres – 5,000

Primary crop – Rice

There is a slave cemetery thought to date from the eighteenth century.

Owners
Alphabetical list – John Ashby, John Ashby, Jr., Isaac Ball (1816), Jane Ball (1825), William James Ball, Reverend and Mrs. Thomas Hasell, Colonel and Mrs. Francis LeJau, Ann and Gabriel Manigault, Roger Pinckney, John Quinby (1681), John Quinby, Jr., John Shubrick, Richard Shubrick, Elizabeth and John Vicaridge

Slaves
Buildings
Web Resources
Print Resources