Brookland Plantation – Edisto Island – Charleston County
---
Basic Information
Location – St. Pierre Creek, Edisto Island, St. John's Colleton Parish, Charleston County

Located off Laurel Hill Road, southwest of SC 174


Origin of name – ?

Other names – Hill Tract, Brooklands, Brooklines


Current status – Privately owned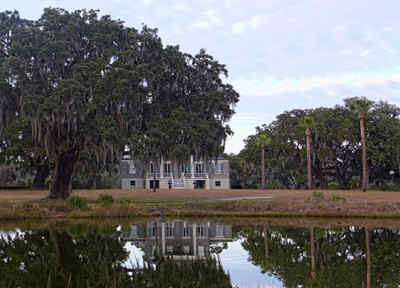 — Brookland Plantation © Gazie Nagle, 2013 —
(Do Not Use Without Written Consent)
Timeline
? – Earliest known date of existence


Circa mid-1700s – Brookland was a pre-Revolutionary indigo plantation owned by Joseph Jenkins family (1, p. 2).


1846 – Property passed to Henry Seabrook.


1868 – Henry Seabrook became bankrupt as a result of the Civil War and Reconstruction.


1872 – Samuel L. Bennett, county auditor, sold the house and 300 acres to H.E. Young and James Lowndes.


1928 – Mary P. Bailey purchased the eastern portion, including the house, from Arthur R. Young and Joseph R. Young.


1958 – The Reverend Ralph Wentling bought the property and started a boys' home. It was known as the Brookland Home for Boys.


1968 – The Brookland Home for Boys was moved to a 212-acre tract near Orangeburg.


1968 – Dr. Charles C. and Betty T. Wannamaker bought the plantation.


2001 – Brookland Plantation, LLC (owned by Robert Chesnut, Pat Barber, and Cas Danielowski) bought the property and restored the house.

Land
Number of acres – 16.7 acres in 1987(1, p. 2)

Primary crop – Indigo during the Revolutionary War period then Sea Island cotton after the Civil War (1, p. 2)


The well-preserved gravestones of Joseph Jenkins, his wife Martha Grimball Jenkins, and their infant son, Joseph, remain standing in the woods on the property (1, p. 2).

Owners
Chronological list – Joseph Jenkins (Circa 1750-?); Henry Seabrook (1846-1868); H. E. Young and James Lowndes (1872-?); Arthur R. and Joseph R. Young (?-1928); Mary P. Bailey (1928-?); Reverend Ralph Wentling (1958-?); Dr. and Mrs. C. C. Wannamaker (1968-?); Brookland Plantation, LLC (2001-?)

Slaves
Buildings
Two-story framed house with weatherboard siding (1, p. 1).

References & Resources
National Register of Historic Places
– Nomination form - PDF - submitted in 1987
– Photographs, architectural overview

30-15 Plantation File, held by the South Carolina Historical Society

Claude Henry Neuffer, editor, Names in South Carolina, Volume I through 30 (Columbia, SC: The State Printing Company)
Order Names in South Carolina, Volumes I-XII, 1954-1965
Order Names in South Carolina, Index XIII-XVIII

More about Charleston