Hayes Plantation – North Charleston – Charleston County
---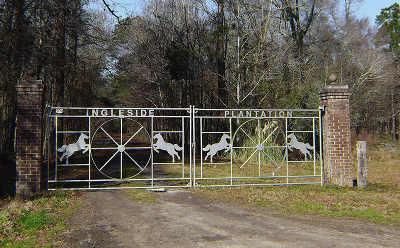 — Gate for Ingleside Plantation © Gazie Nagle, 2014 —
(Do Not Use Without Written Consent)
Basic Information
Location – North Charleston, St. James Goose Creek Parish, Charleston County

Northside Drive


Origin of name – Believed to be derived from the name of the ancestral home of the Parker family in England, Hay-on-Rye (1)


Other names – Ingleside (renamed in the 1870s)

Current status – Most of the property is being developed with ruins of the house to be preserved (6).

Timeline
1702 – Earliest known date of existence

Land warrant issued to John Parker and he established Hayes Plantation (4, p. 185).


Alternate Founding: John Parker was issued a land warrant but died before he took possession of the grant. The grant was then issued to his wife Sarah Parker. Sarah remarried to John Barker and in 1716 gave 600 acres to her son John Parker II in 1716 (4, p. 40 and 5, p. 19).


The plantation would be passed down to the oldest Parker male for over 160 years (1).


? – John Parker died leaving Hayes Plantation to his wife Sarah Parker and son John Parker II. John Parker II took over full ownership of the plantation by 1716 (1 and 4, p. 185).


1802 – John Parker II lived at Hayes until his death in this year. The plantation passed to his son John Parker III (4, p. 185).


1849 – Francis Parker continued the Parker ownership legacy (1).


1871 – The Parker children sold the plantation to Professor Francis Simmons Holmes. Holmes renamed the plantation Ingleside (1 and 4, p. 187).


1914 – The house was lost to fire (1).

Land
Number of acres – 1,166 in early 1700s; 1,282 in 1802; 702.5 in 1871 (1)


Primary crop – Rice
Slaves
Number of slaves – 34 under John Parker II (4, p. 185)

Buildings
Original house lost to fire in 1914 (1).

References & Resources
Information contributed by Frost Parker from:
William Henry Parker, Genealogy of the Parker Family of South Carolina (1933)

30-15 Plantation File, held by the South Carolina Historical Society

Claude Henry Neuffer, editor, Names in South Carolina, Volume I through 30 (Columbia, SC: The State Printing Company)
Order Names in South Carolina, Volumes I-XII, 1954-1965
Order Names in South Carolina, Index XIII-XVIII

Michael J. Heitzler, Goose Creek: A Definitive History - Volume One: Planters, Politicians and Patriots (Charleston, SC: The History Press, 2005)


National Register of Historic Places Multiple Property Documentation Form - PDF - submitted in 2001

Information contributed by photographer Gazie Nagle.