Marshlands Plantation – North Charleston – Charleston County
---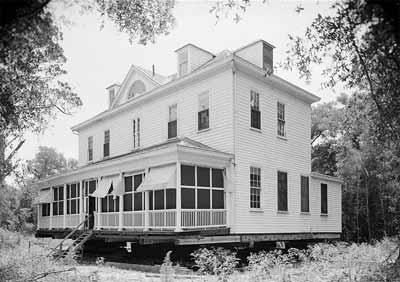 — Marshlands Plantation 1962 © Library of Congress —
— Prints & Photographs Division HABS SC,10-CHAR.V,6-1 —
Basic Information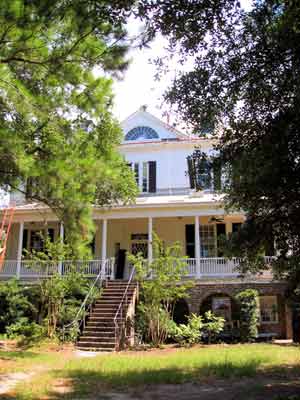 — Marshlands Plantation House © Brandon Coffey —
Timeline
1682-83 – Earliest known date of existence

1810 – House built by John Ball

1819 – The original 213 acres tract was sold to Nathaniel Heyward. He owned numerous lowcountry plantations (National Register, p. 3).


1861-1865 – During the Civil War, Union soldiers used Marshlands as headquarters for the United States Sanitary Commission.


1940s – House was restored


1961 – The house was loaded intact aboard a barge and floated from its site within the bounds of the Naval Base to James Island.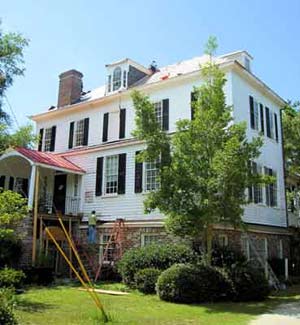 — Rear of Marshlands Plantation House © Brandon Coffey —
Land
Owners
Alphabetical list – John Ball, College of Charleston, Paul Grimball, Nathaniel Heyward, Cecilia Lawton, Charles and Elizabeth Manigault, South Carolina Marine Resources Center, United States Government Navy Yard and Reservation, John Wragg, Joseph Wragg

Slaves
Buildings
The clapboard house with a brick foundation was constructed in 1810. In 1961, it was moved to James Island (National Register, p. 2).

Web Resources
Print Resources
30-15 Plantation File, held by the South Carolina Historical Society

William P. Baldwin Jr., Plantations of the Low County: South Carolina 1697-1865 (Westbrook, ME: Legacy Publishing, 1994)
Order Plantations of the Low County: South Carolina 1697-1865


Claude Henry Neuffer, editor, Names in South Carolina, Volume I through 30 (Columbia, SC: The State Printing Company)
Order Names in South Carolina, Volumes I-XII, 1954-1965
Order Names in South Carolina, Index XIII-XVIII


John Beaufain Irving, A Day on Cooper River (1842) (Whitefish, MT: Kessinger Publishing, LLC, 2010)



Caption on map of plantations along the Santee River in Upper St. John's Parish, SC 1865


Michael J. Heitzler, Goose Creek: A Definitive History - Volume One: Planters, Politicians and Patriots (Charleston, SC: The History Press, 2005)


Contact Information
Hollings Marine Laboratory (location of house)
331 Fort Johnson Road
Charleston, SC 29412


Telephone: 843-762-8811
Website: Click here