Mount Hope Plantation – Ridgeway – Fairfield County
---
Basic Information
Location – Ridgeway, Fairfield County

Located on SC 34, about one mile west of Ridgeway


Origin of name – ?

Other names – ?

Current status – Privately owned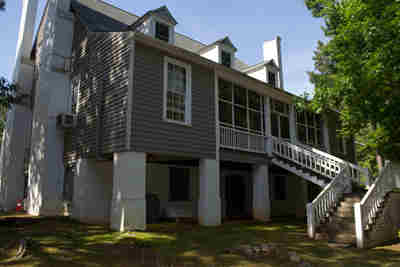 — Rear of Mount Hope Plantation House © Stephanie Kelley, 2014 —
(Do Not Use Without Written Consent)
Timeline
1800s – Earliest known date of existence

1836 – House built (1, p. 1)


Dr. John Peyne Thomas had the one-and-one-half story frame house built for $1,025. There was also a kiln built at this time to produce the bricks and tile for the house (1, p. 1).


1865-1885 – Two of Dr. Thomas' daughters, Henrietta and Emily Thomas, conducted the Mount Hope School in the basement of the house (1, p. 1).


1983 – Robert W. Thomas was owner (1, p. 1).


1986 – Walter and Tan Brown purchased Mount Hope from the Thomas family (3).


2012 – David Brown, son of Walter and Tan, was owner of record (3).

Land
Owners
Alphabetical list – David Brown (?-present, 2012); Walter and Tan Brown (1986-?); Charles Edward Thomas; Dr. John Peyre Thomas (1836); Robert W. Thomas (1983); William Thomas

Slaves
Buildings
References & Resources
National Register of Historic Places
– Nomination form - PDF - submitted in 1983
– Photographs, architectural overview

Claude Henry Neuffer, editor, Names in South Carolina, Volume I through 30 (Columbia, SC: The State Printing Company)
Order Names in South Carolina, Volumes I-XII, 1954-1965
Order Names in South Carolina, Index XIII-XVIII

Information contributed by Boyd Brown