Beneventum Plantation – Georgetown – Georgetown County
---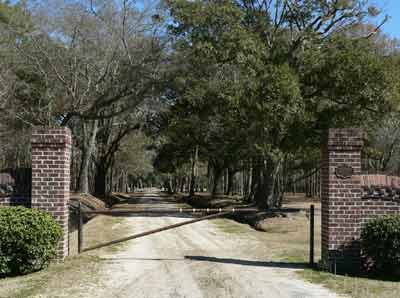 — Beneventum Plantation © Gazie Nagle —
(Do Not Use Without Written Consent)
Basic Information
Location – Black River, Georgetown, Prince George Winyah Parish, Georgetown County

Located on Beneventum Road off US 701


Origin of name – One source says the name means "good will come to you." Another says it is loosely translated from Italian to mean "good wind." Officially, Benevento (one of the plantation's other names) is Italian for "welcome."


Other names – Benevento, The Grove (1787)

Current status – Privately owned

Timeline
1700 – Earliest known date of existence

John Green received several land grants in the area. From these, the plantations of Beneventum, Mansfield, Wedgefield, Windsor and Peru would be developed (8).


1746-1756 – House built (probably by William Fyffe)

The original house was apparently only two rooms over two, topped by a hipped roof.

Land
Number of acres – ?

Primary crop – Rice
Owners
Alphabetical list – Paul Bonneau (1768), Joseph Brown (1771), James Coachman (1754), Robert Collins (1787), J. Cornelius, Drake, Eloise Dudley, William Fyffe (1756), Christopher Gadsden (1883), John Green (early 1700s), William Green, Elliott Waight Hazzard, William Miles Hazzard (1866), Dr. E. W. Hitchcock (1916), Huger, Keith, Fred B. Lee (1958), John Mason (1787), E. A. Mathiesson, Randy and Suzanne McClary, Joel Roberts Poinsett, Walter W. Posey, Jr., John Julius Pringle (1839), Cornelius J. Rathbourne (1931), Archibald Taylor (1787), George Trenholm

Slaves
Buildings
References & Resources
National Register of Historic Places
– Nomination form - PDF - submitted in 1988
– Photographs, architectural overview

Suzanne Cameron Linder and Marta Leslie Thacker, Historical Atlas of the Rice Plantations of Georgetown County and the Santee River (Columbia, SC: South Carolina Department of Archives and History, 2001), pp. 459-464
Order Historical Atlas of the Rice Plantations of Georgetown County and the Santee River
30-15 Plantation File, held by the South Carolina Historical Society
William P. Baldwin Jr., Plantations of the Low County: South Carolina 1697-1865 (Westbrook, ME: Legacy Publishing, 1994)
Order Plantations of the Low County: South Carolina 1697-1865

Claude Henry Neuffer, editor, Names in South Carolina, Volume I through 30 (Columbia, SC: The State Printing Company)
Order Names in South Carolina, Volumes I-XII, 1954-1965
Order Names in South Carolina, Index XIII-XVIII

John Beaufain Irving, A Day on Cooper River (1842) (Whitefish, MT: Kessinger Publishing, LLC, 2010)


George C. Rodgers, Jr., The History of Georgetown County, South Carolina (Spartanburg, SC: Reprint Company, 1990)
Order The History of Georgetown County, South Carolina
Mansfield Plantation History: Click here

More about Georgetown County