White Hall Plantation – Grahamville – Jasper County
---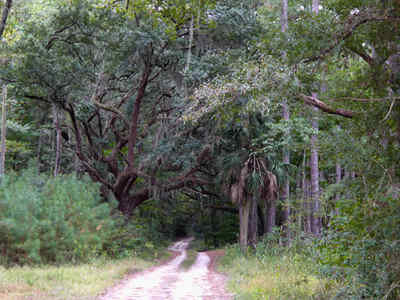 — White Hall Plantation Avenue of Oaks © Gazie Nagle, 2014 —
(Do Not Use Without Written Consent)
Basic Information
Timeline
1750 – Earliest known date of existence

1771-1776 – House built (1, p. 5)


Daniel Heyward Sr or Jr. constructed the house at White Hall (1, p. 15)


1778 – Daniel Heyward Jr. passed away and owned White Hall at the time of his death. His wife Margaret continued to live at the plantation after her husband's death (1, p. 15)


1779 – The house was damaged by a fire set by the Tories during the Revolutionary War (3, p. 171).


? – Daniel and Margaret's son, Thomas Heyward Jr., signer of the Declaration of Independence, became owner (1, p. 15).


1786-1791 – The house was enlarged by Thomas Jr. and his second wife Elizabeth Savage (1, p. 5, 15 and 3, p.173)


1809 – Thomas Heyward Jr. passed away. His son, Captain Thomas Heyward, inherited White Hall (1, pp. 7, 16).


1829 – Captain Heyward died and it appears White Hall was held in trust for a minor child (1, pp. 7, 16).


? – White Hall remained in the Heyward family until General John Howard bought it from Thomas Savage Heyward (3, p.173).


1885 – The house was severely damaged by a fire. Howard owned the property at this time (3, p.174).


1909 – Howard deeded the property to Harry B. Hollis (1, p. 18).


1910 – Herbert L. Pratt purchased White Hall and consolidated it into Good Hope Plantation (1, p. 18).

Land
Slaves
Number of slaves – 33 in 1782 (1, p. 15)

Buildings
Only ruins of the original plantation house, constructed of brick and tabby, remain (1, p. 5).

References & Resources
National Register of Historic Places
– Nomination form - PDF - submitted in 1975
– Photographs, architectural overview

30-15 Plantation File, held by the South Carolina Historical Society
– Online Catalog

Robert B. Cuthbert and Stephen G. Hoffius, editors, Northern Money, Southern Land: The Lowcountry Plantation Sketches of Chlotilde R. Martin (Columbia, SC: The University of South Carolina Press, 2009)