Grovewood Plantation – Eastover – Richland County
---
Basic Information
Location – Eastover, Richland County

1992 Congaree Road, across from McEntire Air National Gaurd Base


Origin of name – ?

Other names – Weston House, Weston Home at Grovewood

Current status – Privately owned, not open to the public; pecan farm


The plantation was listed for sale with asking price of $694,900.00 as of February 2014. View the real estate listing and virtual tour.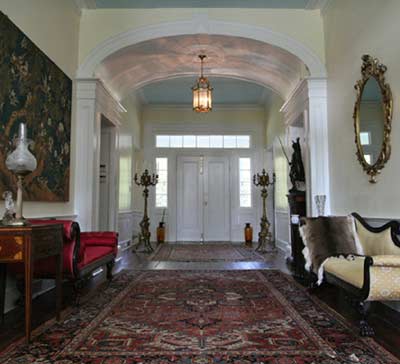 — Entrance Hall of Grovewood Plantation © MaryAnna Disher, 2011 —
(Do Not Use Without Written Consent)
Timeline
? – Earliest known date of existence is not certain. Two theories exist of when the house was built.

1765 or 1800 – House built


Theory one: A circa 1765 one-story house near St. John's Episcopal Church was moved to property around 1835 where it was enlarged (1, p. 2 and 3).


Theory two: William Weston II built the house about 1800 and his son made several improvements to the house. (1, p. 2).


The Westons also owned Brite Savannah Plantation which they abandoned in 1840 after construction of a rail line severely damaged the plantation's property (4, p. 351).


2011 – Grovewood has remained in the Weston family (1, p. 2).

Land
Slaves
Buildings
The main house is 3,800 square feet and has been restored. There is also a 1,600 square foot addition house on the property (3).

References & Resources
National Register of Historic Places
– Nomination form - PDF - submitted in 1986
– Photographs, architectural overview

Claude Henry Neuffer, editor, Names in South Carolina, Volume I through 30 (Columbia, SC: The State Printing Company)
Order Names in South Carolina, Volumes I-XII, 1954-1965
Order Names in South Carolina, Index XIII-XVIII

Information contributed by Margaret M. R. Eastman, who discovered this information while researching her family, from:
Virginia Meynard, The History of Lower Richland County and Its Early Planters, (Columbia, SC: R.L. Bryan Company, 2010)

More about Richland County