Woodburn Plantation – Pendleton – Anderson County
---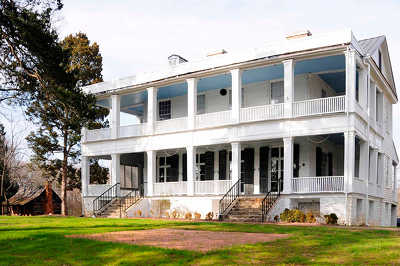 — Woodburn Plantation © Bill Fitzpatrick, 2013 —
(Do Not Use Without Written Consent)
Basic Information
Timeline
1800 – Earliest known date of existence

1832 – House built by Charles Cotesworth Pinckney (1, p. 3).


1850s – David S. Taylor acquired the plantation (2).


1850s – Taylor didn't own Woodburn long before he sold it to Reverend Dr. John Baily Adger (2).


1852 – House enlarged by Reverend Dr. John B. Adger (1, p. 3).


1858 – Joseph Ellison Adger purchased Woodburn from his brother Rev. Adger (2).


1881 – Augustine T. Smythe, nephew of Adger brothers, purchased the plantation to form a livestock farm (2).


1882 – Jane Edna Harris Hunter was born on Woodburn Farm; she later founded the Phyllis Wheatley Association.


1911 – Smythe sold the 8.45 acre property to William Frederick Calhoun Owen for $20,000 (2).


1930 – Owen lost Woodburn during the Great Depression when he was unable to make the mortgage payments and the South Carolina State Bank of Greenville foreclosed, taking possession of the plantation (2).


1930 – South Carolina State Bank of Greenville split the property into two parts and within three months sold 6.05 acres to John Frank (2).


? – At the conclusion of the Great Depression, the US Government through the Resettlement Administration, which aimed to aid struggling farmers, bought the property from John Frank (2).


Early 1950s – Clemson College (now Clemson University) leased to purchase Woodburn Plantation from the US Government (2).


1966 – Clemson College deeded Woodburn Plantation to the Pendleton Historic Foundation. The foundation restored the house and opened it to the public (2).

Land
Number of acres – 600; 8.45 acres in 1911; 6.05 acres in 1930


Primary crop – ?
Slaves
References & Resources
Contact Information
Pendleton Historic Foundation
PO Box 444
Pendleton, SC 29670


Telephone: 864-646-7249
Website: Click here