Braddock's Point Plantation – Hilton Head Island – Beaufort County
---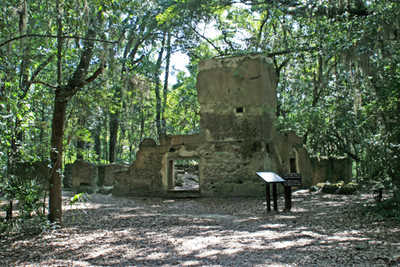 — Braddock's Point Plantation © Bill Segars, 2010 —
(Do Not Use Without Written Consent)
Basic Information
Location – Hilton Head Island, Beaufort County

In Sea Pines Plantation, a present-day real estate development, 84 Baynard Park Road at Plantation Drive


Origin of name – Named for Captain David Cutler Braddock, commander of the colonial half-galley Beaufort in 1742.


Other names – Braddock Cove, Calibogue Point, Stoney-Baynard Hall


Current status – Listed on National Register of Historical Places – owned by Sea Pines Plantation Company


"Today, the tabby structure is comprised of a foundation and the outer structure or shell of the home. Seen from a distance, the ruins seem blurred. Up close, the thousands of oyster shells create a honeycomb, a complex texture that is simultaneously pocked and smooth. There are windows that look like ancient portholes, and bits of stucco still cling to the tabby. The effect is not unlike that of a medieval abbey or a Roman ruin, the remnants of a dream (4)."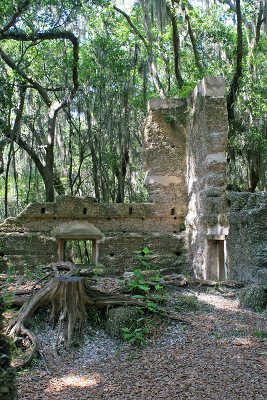 — Ruins at Braddock's Point Plantation © Bill Segars, 2010 —
(Do Not Use Without Written Consent)
Timeline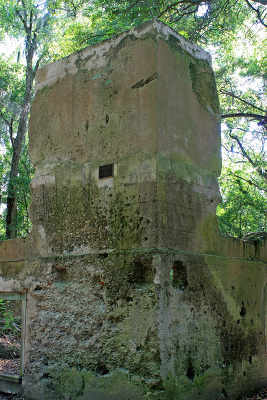 — Braddock's Point Plantation © Bill Segars, 2010 —
(Do Not Use Without Written Consent)
Land
Number of acres – 1,000 (at least from 1776 to 1840); 1,500 in 1867 (10)

Slaves
Buildings
House – The walls were two feet thick and constructed from tabby, "a mixture of oyster shells, some whole and others burnt to a lime powder, as well as sand and water (7)."


More about tabby plus photograph
References & Resources
National Register of Historic Places
– Nomination form - PDF - submitted in 1994
– Photographs, architectural overview

Claude Henry Neuffer, editor, Names in South Carolina, Volume I through 30 (Columbia, SC: The State Printing Company)
Order Names in South Carolina, Volumes I-XII, 1954-1965
Order Names in South Carolina, Index XIII-XVIII

Trinkley, Chicora Foundation Research Series #24, Preliminary Historical Research on the Baynard Plantation, Hilton Head Island, Beaufort County, South Carolina, pages 15-17

Natalie Adams, Michael Trinkley, and Debi Hacker, Chicora Foundation Research Series 40: In the Shadow of the Big House: Domestic Slaves at Stoney/Baynard Plantation, Hilton Head Island

United States War Department, The War of the Rebellion: A Compilation of the Official Records of the Union and Confederate Armies (Ithica, NY: Cornell University Library, 2009)


The Heritage Library Foundation - Stoney-Baynard Plantation

Capitan John Stoney - genealogy posting

More about Beaufort County