Blessing Plantation – Huger – Berkeley County
---
Basic Information
Location – Eastern branch of the Cooper River, Huger, St. Thomas and St. Denis Parish, Berkeley County

Located off SC 41 on Cainhoy Road

Origin of name – Jonah Lynch named the plantation after the ship,The Blessing, upon which he immigrated to Carolina.


Other names – Mattesaw (6, p. 14).


Current status – Privately owned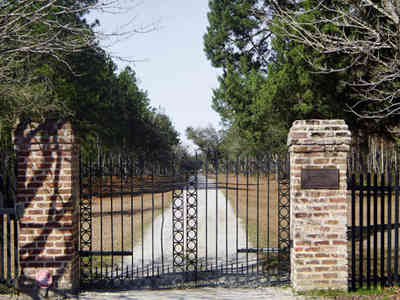 — Blessing Plantation Gate © Gazie Nagle, 2014 —
(Do Not Use Without Written Consent)
Timeline
1682 – Earliest known date of existence

Jonah Lynch received a grant for 780 acres (8, bk. 1, vol. 12, p. 24).


He called his property Blessing after the ship that brought him to the new colonies (7, p. 135).


? – The Blessing was divided up into three plantations: Cherry Hill, Cedar Hill, and the Blessing.


? – Henry Laurens purchased the Blessing and then proceeded to purchase Cherry Hill and Cedar Hill (7, p. 136).


While in the possession of the Laurens family the plantations were once again divided.


1834 – James Poyas and his wife Charlotte Bentham purchased the plantation (1, p. 14).


They built a two-and-a-half-story rectangular frame plantation house (1, p. 14).


1860 – By this time all three plantations were owned by William James Ball.


1865 – The three plantations were once again sold separately.


1927 – The Wellington Corporation purchased all three plantations (7, p. 136).


1928 – T. Ferdinand Wilcox, Esq. and Edward Roesler, Esq. purchased the plantation (1, p. 14).


The new owners repaired the house built by James Poyas (1, p. 14).


? – 188 acres of the Blessing were put under the protection of the Lowcountry Open Land Trust.

Land
Number of acres – 780 in 1682; 631 in 1786

Primary crop – Rice

The Bonneau Ferry landing is located at Blessing Plantation (1, p. 14).


Blessing Plantation Rice Fields: Click here for picture


Blessing Plantation Steam Engine: Click here for picture

African-American Cemetery: Click here for picture
Owners
Alphabetical list – William James Ball; Bonneau; Deas; Henry Laurens; Jonah Lynch (1682-?); James and Charlotte Bentham Poyas (1834-?); Wellington Corporation (1927-1928); T. Ferdinand Wilcox, Esq. and Edward Roesler, Esq. (1928-?)

Slaves
References & Resources
National Register of Historic Places
– Nomination form - PDF - submitted in 2002
– Photographs, architectural overview
– Blessing House photograph

SCDHEC's A Cultural Resources Management Plan for the Cooper River Drainage Berkeley County, South Carolina - PDF - pages 50, 55-57, 60, 64-65, 67-68, 70-71

30-15 Plantation File, held by the South Carolina Historical Society
30-14 Plantation File, South Carolina Historical Society
– Online Catalog
William P. Baldwin, Jr., Plantations of the Low Country; South Carolina, 1697-1865 (Greensboro, NC: Legacy Publications, 1987)
Order Plantations of the Low Country; South Carolina, 1697-1865

J. Russell Cross, Historic Ramblin's through Berkeley (Columbia, SC: R.L. Bryan Company, 1985)
Order Historic Ramblin's through Berkeley
John Beaufain Irving, A Day on Cooper River (1842) (Whitefish, MT: Kessinger Publishing, LLC, 2010)


Claude Henry Neuffer, editor, Names in South Carolina, Volume I through 30 (Columbia, SC: The State Printing Company)
Order Names in South Carolina, Volumes I-XII, 1954-1965
Order Names in South Carolina, Index XIII-XVIII