Brabant Plantation – Berkeley County
---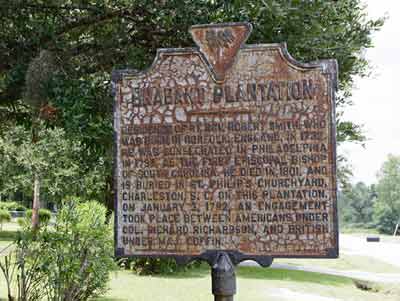 — Brabant Plantation © Gazie Nagle —
(Do Not Use Without Written Consent)
Basic Information
Location – French Quarter Creek, eastern branch of the Cooper River, St. Thomas and St. Denis Parish, Berkeley County

Located near the intersection of SC 41 and Cainhoy Road on Clements Ferry Rd


Origin of name – For one of the original, large land owner

Other names – ?

Current status – Residential housing
Timeline
1696 – Earliest known date of existence when Lewis Juin was issued a land grant for 200 acres

Several smaller land grants have been combined to create Brabant Plantation with the plantation taking its name from the largest land owner. These smaller land grants were issued as follows:
– 1696 – 200 acres to Lewis Juin
– 1704 – 210 acres to James Belin
– 1704 – 299 acres to Francis Pagett
– 1704 – 200 acres to Julien Carteau
– 1705 – 150 acres to Philip Norman
– 1707 – 200 acres to Anthony Poitevin
– 1709 – 500 acres to Daniel Brabant
– 1710 – 26 acres to Daniel Brabant
– 1713 – 150 acres to Peter Potevin
– 1714 – 390 acres to Francis Pagett
– 1719 – 70 acres to Francis Pagett
– 1719 – 52 acres to Francis Pagett
(1)


? – House built

1730 – Francis Pagett died. He had previously married the widow of Lewis Juin and left their combined land holdings to their three sons Francis, Peter, and John (1).


? – John Pagett would over time acquire 2,528 acres of the original land grants and added additional acres to grow the plantation to a total of 3,600 acres (1).


? – After John's death, his estate was divided among many heirs. It is not clear how his estate was divided but John's sister Elizabeth appears to have inherited Brabrant (1).


1801 – Smith's oldest son, Robert, inherited Brabant at his father's death. Robert soon began selling off pieces of the plantation. Grove Plantation and Pagett's Landing Plantation were developed on some of these subdivided parcels (1) (7, p. 30).


? – Lord Cornwallis set-up his headquarters at Brabant during the British siege of Charles Town during the American Revolutionary War (1).


1852 – Smith descendants sold their remaining land to Dr. Edmund Ravenel. Ravenel also acquired other pieces that had been sold off, including Pagett's Landing and had previously purchased Grove Plantation in 1835 (1).


Late 1860s – The house was destroyed by fire after it had been abandoned during the Civil War (1).

Land
Number of acres – 3,600 under John Pagett

Primary product – Brick manufacturing (1)
Slaves
Buildings
The house was a two and a half story frame building (1)
References & Resources
History of Brabant Plantation: Click here
Claude Henry Neuffer, editor, Names in South Carolina, Volume I through 30 (Columbia, SC: The State Printing Company)
Order Names in South Carolina, Volumes I-XII, 1954-1965
Order Names in South Carolina, Index XIII-XVIII

John Beaufain Irving, A Day on Cooper River (1842) (Whitefish, MT: Kessinger Publishing, LLC, 2010)


SC Highway Historical Marker Guide - online database by the SC Department of Archives & History

J. Russell Cross, Historic Ramblin's through Berkeley (Columbia, SC: R.L. Bryan Company, 1985)
Order Historic Ramblin's through Berkeley
News & Courier Newspaper (predecessor to the Charleston Post & Courier) February 26, 1933 issue reprint of Free South April 4, 1863 listing of St. Helena Island plantation sales prior to the Civil War

Henry A. M. Smith, South Carolina Historical and Genealogical Magazine (January 1917 edition)