Rice Hope Plantation – Moncks Corner – Berkeley County
---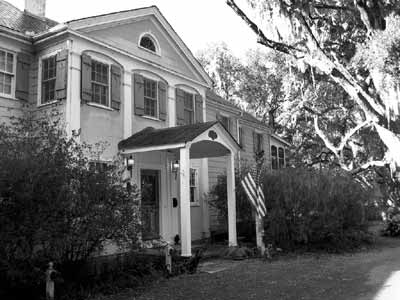 — Rice Hope Plantation © Brandon Coffey, 2008 —
(Do Not Use Without Written Consent)
Basic Information
Location – Western branch of the Cooper River, Moncks Corner, Berkeley County


Follow SC 402 to Doctor Evans Road. Turn onto Rice Hope Drive.


Origin of name – ?

Other names – Luckins

Current status – Plantation house operated as a bed and breakfast inn (2006)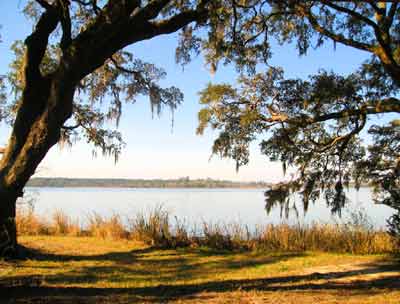 — View of River at Rice Hope Plantation © Brandon Coffey, 2008 —
(Do Not Use Without Written Consent)
Timeline
1696 – Earliest known date of existence

Daniel Huger received 690 acres through grants from the Lords Proprietors (6).


1696 – House built

1711 – Daniel Huger died and passed his property to his son, Daniel Huger, Jr. (6).


1713 – Daniel Huger, Jr. purchased additional acreage from Michael Mahon. Rice Hope now totaled 3,415 acres (6).


1754 – Daniel Huger, Jr. died and passed the property to his son, Daniel Huger, III (6).


1795 – Formal gardens established


? – At some point Rice Hope ended up in the ownership of John Harleston. He willed it to his daughter, Sarah, and her husband, Dr. William Read. Dr. Read had Rice Hope cleared and banked for tidal rice cultivation (6).


1840 – House destroyed by fire. A second house was built in its place. A pen-and-ink watercolor of the first house was done by painter Charles Fraser. It can be seen at the Gibbes Museum of Art in Charleston (6).


1845 – Dr. Read died and left the property to his son, J. Harleston Read, and his sister, Elizabeth Read Parker. By 1846 J. Harleston Read had complete control of the property. Rice Hope now consisted of 1,709 acres of timber and 371 acres of rice fields (6).


? – J. Harleston Read died and his son, Benjamin Read, inherited the property. Benjamin Read fought for the Confederacy during the Civil War (6).


1875 – Elizabeth Magwood purchased Rice Hope from Benjamin Read (6).


1895 – Alwyn J. Ball purchased the plantation (6).


1919 – Ball sold the timber rights to the Coming Tee Corporation (6).


1920s – US Senator Joseph S. Frelinghuysen bought the plantation and proceeded to remodel the 1840 house. There is no record of when the Senator sold the property.


1927 – Senator Frelinghuysen purchased neighboring Strawberry Plantation and merged it with Rice Hope (4, p. 81).


1930s – The formal gardens were restored and enhanced by Loutrel Briggs, a noted landscape architect.


1949-1953 – John Page Simpson, Jr. purchased the plantation from West Virginia Pulp and Paper. During his ownership he was the caretaker of Strawberry Chapel.


1968-1971 – The house at Rice Hope was used as a school for unruly boys (6).


1971-1983 – Rice Hope was used as an art school (6).


1983 – Gene and Sue Lanier bought Rice Hope and restored the house (6).


1992 – Doris Kasprak purchased Rice Hope and turned it into a bed and breakfast (6).


1996 – Lou Edens purchased the plantation and continues to run a bed and breakfast (6).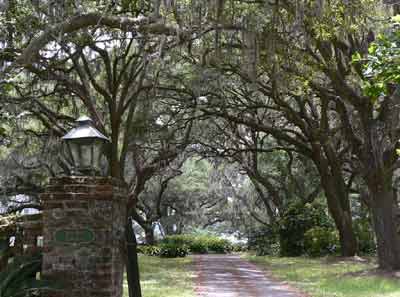 — Oak Avenue at Rice Hope Plantation © Gazie Nagle —
(Do Not Use Without Written Consent)
Land
Number of acres – 690 in 1711; 3,415 in 1713; 2,080 in 1845

Primary crop – Rice

Formal gardens date from 1795. They were restored and enhanced by noted landscape architect Loutrel W. Briggs.

Owners
Chronological list – Daniel Huger (1696-1711), Daniel Huger, Jr. (1711-1754), Daniel Huger, III (1754-?), John Harleston, Dr. William Read (?-1845), J. Harleston Read (1845-?), Benjamin Read (?-1875), Elizabeth Magwood (1875-1895), Alwyn J. Ball (1895-1920s), Senator Joseph S. Frelinghuysen (1920), John Page Simpson, Jr. (1949-1953), Gene and Sue Lanier (1983-1992), Doris Kasprak (1992-1996), Lou Edens (1996-2006)

Slaves
Buildings
Plantation house (c. 1840)
References & Resources
National Register of Historic Places
– Cooper River Historic District nomination form - PDF - submitted in 2002
– Rice Hope photograph

Proud History of Rice Hope Plantation and Luckins Plantation: Click here for detailed timeline

30-15 Plantation File, held by the South Carolina Historical Society
John Beaufain Irving, A Day on Cooper River (1842) (Whitefish, MT: Kessinger Publishing, LLC, 2010)


J. Russell Cross, Historic Ramblin's through Berkeley (Columbia, SC: R.L. Bryan Company, 1985)
Order Historic Ramblin's through Berkeley
SCHS, 2005 Fall Tour -

source no longer available online
Contact Information
Rice Hope Plantation Inn
206 Rice Hope Drive
Moncks Corner, SC 29461


E-Mail: lou@ricehope.com
Telephone: 800-569-4038
Website: Click here