Yeamans Hall Plantation – Hanahan – Berkeley County
---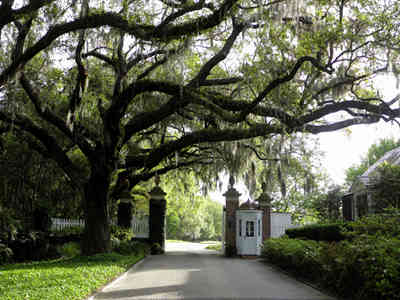 — Gate at Yeamans Hall Plantation © Gazie Nagle, 2013 —
(Do Not Use Without Written Consent)
Basic Information
Location – Goose Creek (a branch of the Cooper River), Hanahan, St. James Goose Creek Parish, Berkeley County

900 Yeamans Hall Road


Origin of name – Named for early owner


Other names – Old Goose Creek, Westockan


Current status – Private golf course
Timeline
1674 – Earliest known date of existence when Lady Margaret Yeamans, widow of Sir John Yeamans, received a 1,070 acre grant from the Lords Proprietors (5, p. 160).


1674 – House built and was called Old Goose Creek

1677 – James Moore became owner. He was married to Margaret Berringer, Lady Yeamans daughter by a previous husband (5, p. 160).


1694 – Thomas Smith became owner of the plantation. Smith increased the size of Yeamans Hall to 1,869 acres (5, p. 160).


1695 – New brick house built by Landgrave Thomas Smith II


1738 – Henry Smith, Thomas Smith's oldest son, inherited the plantation upon his father's death (5, p. 161).


1780 – Henry Smith passed away leaving Yeamans Hall to his son Thomas Smith (5, p. 161).


? – Yeamans Hall remained in the Smith family passing from George Henry Smith next to Thomas Henry Smith (5, p. 162).


? – Yeamans Hall was purchased by Charleston Consortium, which was headed by R. Goodwyn Rhett.


1915 – Architects were hired to build a golf course on the plantation as the owners of Yeamans Hall wanted to turn it into a winter resort development (1, p. 1).


February 1926 – The golf course, Yeamans Hall Club, opened (1, p. 1).

Land
Number of acres – 1,070 in 1674; 1,869 circa 1700: 1,371 in 1908; 900 in 1996 (1, p. 1 and 5, p. 160, 162)


Primary crop – Rice
Owners
Chronological list – Lady Margaret Yeamans (1674-1677); James Moore (1677-?); Landgrave Thomas Smith II (1694-1738); Henry Smith (1738-1780); Thomas Smith (1780-?); George Henry Smith (?); Thomas Henry Smith (?); Charleston Consortium (?); Yeamans Hall Company

Slaves
Number of slaves – 20 under Thomas Smith circa 1780 (5, p. 160)

Buildings
References & Resources
Yeamans Hall Club - Something Unique: PDF
30-15 Plantation File, held by the South Carolina Historical Society
John Beaufain Irving, A Day on Cooper River (1842) (Whitefish, MT: Kessinger Publishing, LLC, 2010)


J. Russell Cross, Historic Ramblin's through Berkeley (Columbia, SC: R.L. Bryan Company, 1985)
Order Historic Ramblin's through Berkeley
Michael J. Heitzler, Goose Creek: A Definitive History - Volume One: Planters, Politicians and Patriots (Charleston, SC: The History Press, 2005)


Contact Information
Yeamans Hall Club
900 Yeamans Hall Road
Hanahan, SC 29410


Telephone: (843) 747-8855
Website: Click here