Fenwick Hall Plantation – Johns Island – Charleston County
---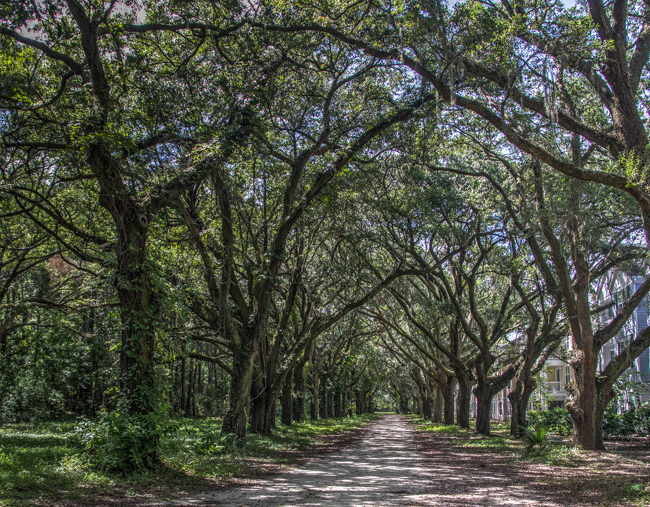 — Oak Avenue at Fenwick Hall Plantation © B.G. Flanders, 2016 —
(Do Not Use Without Written Consent)
Basic Information
Location – Stono River, Johns Island, St. John's Colleton Parish, Charleston County

Located off River Road on Fenwick Plantation Road


Origin of name – Named after the Fenwick family who owned the property


Other names – Headquarters (3, p. 262)


Current status – The house is privately owned. The rest of the lands have been developed into homes and condominiums.

Timeline
1709 – Earliest known date of existence

Circa 1730 – House built by John Fenwick (1, p. 3).


Prior to 1775 – Edward Fenwick moved his family to England to have his two sons educated. Edward died there in 1775 and left Fenwick Hall to his son, Edward Fenwick II (2, p. 33).


1787 – Edward Fenwick II sold the plantation to cousin John Gibbes. Gibbes added the octagonal west wing to the house (1, p. 3) (2, p. 35).


1826 – Benjamin Reynolds owned the plantation (3, pp. 238-240).


Circa 1860 – Dr. Daniel Jenkins Townsend acquired Fenwick Hall Plantation (3, pp. 145, 245).


1867 – Dr. Townsend gave the plantation to his son, John Henry Townsend. The Townsends deemed the house at Fenwick Hall as "ruined" probably because it had been used as a field hospital by both Confederate and Union forces during the Civil War (3, p. 262).


1917 – Thomas T. H. Peck purchased Fenwick Hall Plantation from H. B. Wilden for $8,000 (3, p. 262).


Circa 1931 – Victor Morawtea purchased Fenwick Hall and restored the house as it was in poor condition at this time (1, p. 3) (2, p. 35).


1971 – Mr. and Mrs. Claude W. Blanchard where the owners (1, p. 1).


1998 – Fenwick Hall was being used as a private facility for the treatment of patients with drug and alcohol addiction problems (3, p. 220).

Land
Number of acres – 1,200 circa 1750; 1,300 in 1860 and 1917 (3, pp. 62, 245, 262)


Primary crop – Sea island cotton

Slaves
Buildings
The house at Fenwick Hall Plantation was by used military units on both sides of the conflicts during both the Revolutionary War and Civil War (1, p. 3).


The 1753 brick coach house and stables has been converted into a garage (1, p. 2).


Special thanks to John Swanger for letting us know about the 'ghosties' of Fenwick Hall:


"My Aunt Annie used to tell us stories about her and her brother 'Hubba', my grandfather, spending the night with their Aunt Nelly and Uncle Clauds at Fenwick Hall. She said they would go to bed and hear all kinds of commotion downstairs, but they would go look and no one would be there. In the morning, when they would go down for breakfast, all the furniture would be completely rearranged. They would move it back and the next night the same thing would happen. They finally just left the furniture where the 'ghosties' put it. Aunt Nelly said, 'Well, they live here too.'"



References & Resources
National Register of Historic Places
– Nomination form - PDF - submitted in 1971
– Photographs, architectural overview

William P. Baldwin Jr., Plantations of the Low Country (Westbrook, ME: Legacy Publishing, 1994)


Layton Wayne Jordan and Elizabeth H. Stringfellow, A Place Called St. John's (Spartanburg, SC: Reprint Company, 1998)


Catherine Campart Messmer, South Carolina's Low Country - A Past Preserved Text (Orangeburg, SC: Sandlapper Publishing, 1988)
Samuel Gaillard Stoney, Plantations of the Carolina Low Country (Mineola, NY: Dover Publications, 1990), pp. 57-59; 124-137


More about Johns Island & Charleston County