Vanderhorst Plantation – Kiawah Island – Charleston County
---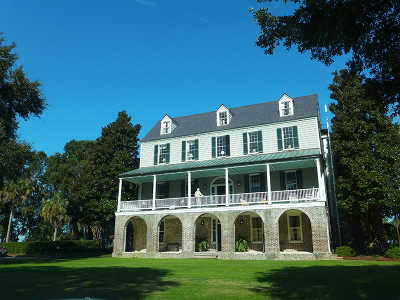 — Vanderhorst Plantation © Gazie Nagle, 2012 —
(Do Not Use Without Written Consent)
Basic Information
Location – Kiawah Island, St. John's Colleton Parish, Charleston County

This plantation was located on the whole of Kiawah Island and bounded by the Kiawah River, the Stono River, and the Atlantic Ocean.


Origin of name – Arnoldus Vanderhorst developed the plantation

Origin of name – Kiawah Plantation, Kiawah Island, and today's Kiawah River (which separates Kiawah Island from Johns Island) are all named for a Cusabo tribe that lived on the western shore of the Ashley River when the English settlers landed there in 1670. In fact, area tribes called this river the Kiawah River.


As more settlers arrived, the Kiawah were pushed westward, and the name Kiawah River was changed to Ashley River.


Other names – Kiawah, Kyawah, Kyawha, Oristo

Current status – Private residential community and golf resort

Timeline
1699 – Earliest known date of existence

Captain George Raynor was granted 2,700 acres by the Lords Proprietors on March 29, 1699. Englad had traded with the Kiawah Indians in 1675 for the island (2).


1719 – Raynor divided the island in half, selling one portion to Captain William Davis. Raynor retained the other part and left it to his daughter Mary Raynor Moore upon his death (2, 6).


1737 – John Stanyarne purchased both holdings and the island was one again. Stanyarne raised cattle and indigo on the plantation (2).


1772 – Stanyarne died and the island was once again divided into two. He left the western portion to his granddaughter Mary Gibbes and the eastern side to his other granddaughter, Elizabeth Vanderhorst. Elizabeth was married to Arnoldus Vanderhorst II (2).


? – House built

Vanderhorst built a house but it was destroyed in 1780 by the British during the American Revolution (2).


1801 – Arnoldus Vanderhorst II began to build another house on the plantation (2).


1802 – James Schoolbred, South Carolina's first British Consul, acquired the western portion of the island (6).


1815 – Arnoldus Vanderhorst died and the plantation passed to his son Elias Vanderhorst (2).


Circa 1858 – Arnoldus Vanderhorst IV took over the plantation from his father Elias (2).


Late 1800s – The Vanderhorst family acquired the western portion from the Schoolbreds thus owning the entire island (6).


1881 – Arnoldus IV died in a hunting accident and the plantation passed to his wife Adele (2).


1915 – Arnoldus Vanderhorst V inherited the plantation upon his mother Adele's death in this year (2).


1951 – The Vanderhorst family retained ownership of Kiawah Island until this year when it was sold to C.C. Royal for $125,000 (6).


1964 – C.C. Royal died and the island passed to a family trust (7).


1974 – The trust sold the island, except for 21 beachfront acres, to developer Coastal Shores, Inc., a Kuwaiti company, for $17.385 million (7).


Today – The island has been developed into a private residential community and golf resort (7).

Land
Number of acres – 2,700 in 1699 (2)


Primary crop – Cattle, indigo, cotton

Owners
Chronological list – Captain George Raynor (1699-?); Captain William Davis (1719-?); Mary Raynor Moore; John Stanyarne (1737-1772); Mary Gibbes (1772-?); Arnoldus and Elizabeth Vanderhorst (1772-1815); James Schoolbred (1802-?); Elias Vanderhorst (1815-circa 1858); Arnoldus Vanderhorst IV (Circa 1858-1881); Adele Vanderhorst (1881-1915); Arnoldus Vanderhorst V (1915-?); C.C. Royal (1951-1964); Royal family trust (1964-1974); Coastal Shores, Inc. (1974)

Slaves
Buildings
The house built by Arnoldus Vanderhorst II in 1801 still stands today and has been fully restored.

References & Resources
National Register of Historic Places
– Nomination form - PDF - submitted in 1973
– Photographs, architectural overview

30-15 Plantation File, held by the South Carolina Historical Society

Layton Wayne Jordan and Elizabeth H. Stringfellow, A Place Called St. John's (Spartanburg, SC: Reprint Company, 1998)


Catherine Campant Messner, South Carolina's Low Country: A Past Preserved (Orangeburg, SC: Sandlapper Publishing Company, 1988)
Order South Carolina's Low Country: A Past Preserved
Ashton Cobb, Kiawah Island: A History (Charleston, SC: The History Press, 2012 reprint)



Cobblestone Destinations - Pictures of the interior and exterior of the house taken in April 2011

Contact Information
Kiawah Island Golf Resort
One Sanctuary Beach Drive
Kiawah Island, SC 29455


Telephone: 800-654-2924
Website: Click here