Marshlands Plantation – North Charleston – Charleston County
---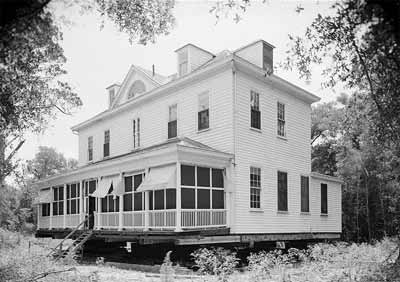 —Marshlands Plantation, Library of Congress, 1962 —
Prints & Photographs Division HABS SC,10-CHAR.V,6-1
Basic Information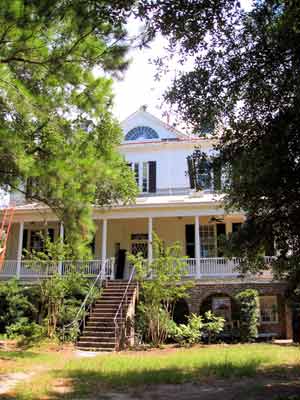 — Marshlands Plantation House © Brandon Coffey, 2008 —
(Do Not Use Without Written Consent)
Timeline
1682-83 – Earliest known date of existence

1810 – House built by John Ball

1819 – The original 213 acres tract was sold to Nathaniel Heyward. He owned numerous lowcountry plantations (1, p. 3).


1861-1865 – During the Civil War, Union soldiers used Marshlands as headquarters for the United States Sanitary Commission.


1940s – House was restored


1961 – The house was loaded intact aboard a barge and floated from its site within the bounds of the Naval Base to James Island.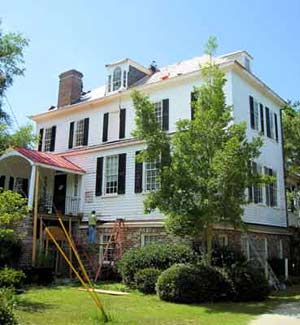 — Reaf of Marshlands Plantation House © Brandon Coffey, 2008 —
(Do Not Use Without Written Consent)
Land
Number of acres – 30 in 1683; 822 in 1806; 213 in 1819


Primary crop – Rice (1, p. 3)

Owners
Alphabetical list – John Ball; College of Charleston; Paul Grimball; Nathaniel Heyward; Cecilia Lawton; Charles and Elizabeth Manigault; South Carolina Marine Resources Center; United States Government; John Wragg; Joseph Wragg

Slaves
Buildings
The clapboard house with a brick foundation was constructed in 1810. In 1961, it was moved to James Island (1, p. 2).

References & Resources
National Register of Historic Places
– Nomination form - PDF - submitted in 1972
– Photographs, architectural overview

30-15 Plantation File, held by the South Carolina Historical Society
William P. Baldwin Jr., Plantations of the Low Country (Westbrook, ME: Legacy Publishing, 1994)


Claude Henry Neuffer, editor, Names in South Carolina, Volume I through 30 (Columbia, SC: The State Printing Company)
Order Names in South Carolina, Volumes I-XII, 1954-1965
Order Names in South Carolina, Index XIII-XVIII

John Beaufain Irving, A Day on Cooper River (1842) (Whitefish, MT: Kessinger Publishing, LLC, 2010)


Michael J. Heitzler, Goose Creek: A Definitive History - Volume One: Planters, Politicians and Patriots (Charleston, SC: The History Press, 2005)


Contact Information
Hollings Marine Laboratory (location of house)
331 Fort Johnson Road
Charleston, SC 29412


Telephone: 843-762-8811
Website: Click here