Mount Pleasant Plantation – Mount Pleasant – Charleston County
---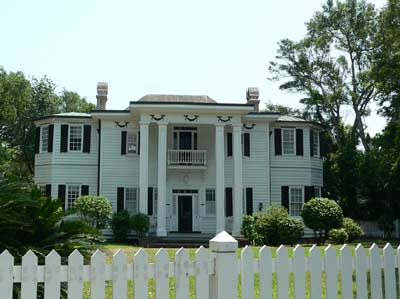 — Mount Pleasant Plantation © Gazie Nagle —
(Do Not Use Without Written Consent)
Basic Information
— Hibben House Sign at Mount Pleasant Plantation © Gazie Nagle —
(Do Not Use Without Written Consent)
Timeline
Circa 1755 – Earliest known date of existence as being owned by Jacob Motte


Circa 1759 – House was built by Jacob Motte (1, p. 2)


1803 – James Hibben purchased the plantation from Jacob Motte's estate (1, p. 2)


James Hibben had John Diamond survey the land and divide it into 35 lots. Ten of his twelve children lived to maturity; to these he gave home lots. The three on a high bluff, the site of a Confederate fort, numbered 1, 2, and 3, he gave to Claudia who married Josiah Smith, Eliza who married Aaron W. Leland, and Sarah Margaret who married Daniel DuPre'. His daughter Hannah married Thomas Napier of Scotland, Martha married John Singletary, Harriet married Duke Goodman of Charleston. There were five streets on the plan made by John Diamond, Beach, Bennett, Whilden, Boundary and Venning Streets. This subdivision was the founding of the town of Mount Pleasant (3).

Land
Number of acres – 67 in 1777

Primary crop – ?
Owners
Alphabetical list – James Hibben (1803-?), Ms. Petie McIver (1900), Jacob Motte (1755-?), R. H. Pinckney, Wells

Slaves
Buildings
The house was remodeled around 1890 making the rear of the house the front. It is the oldest building in Mount Pleasant (1, p. 2).

References & Resources
National Register of Historic Places
– Mount Pleasant Historical District nomination form - PDF - submitted in 1972
– Photograph

Historical Summary of Mount Pleasant: Click here
Petrona Royall McIver, History of Mount Pleasant, South Carolina (Mount Pleasant, SC: Christ Church Parish Preservation Society, Inc., 1995)
Order History of Mount Pleasant, South Carolina