Runnymede Plantation – West Ashley – Charleston County
---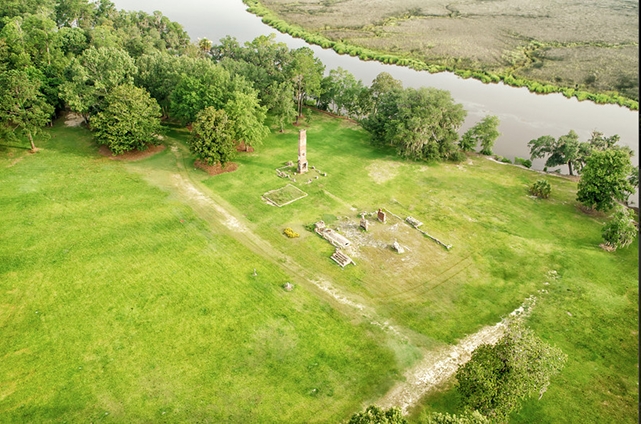 — Runnymede Plantation © Vanessa Kauffmann, 2012 —
(Do Not Use Without Written Consent)
Basic Information
Location – Ashley River, West Ashley, St Andrew's Parish, Charleston County


Original plantation lands were located off Highway 61.


Origin of name – It is believed the name Runnymede was chosen due to the property's great oak and location along a river similar to the Runnymede in England.


Other names – Greenville and Sarah Place in honor of John Julius Pringle's wife


Current status – Privately owned and available for special occasion rental

Timeline
1705 – Earliest known date of existence

John Cattell received a grant for 300 acres on the south side of the Ashley River. The property eventually passed to his eldest son, John Cattell (2, p. 17).


1777 – Abraham Ladson purchased the 45 acres of the property. He sold off 5 acres and kept the rest.


At his death, the property went to Lambert Lance and then to John Julius Pringle. Up to this point the plantation had been known as Greenville. John Julius Pringle changed it to Sarah Place after his wife. The original house had been destroyed by fire prior to Pringle's purchase. Pringle constructed a new plantation house and when it was complete, the plantation became known as Runnymede (2, p. 18).


1841 – John Julius Pringle died. The plantation went to his son, William Bull Pringle (2, p. 18).


1845 – William Bull Pringle added 500 acres to the property. The acreage was part of Fuller Plantation (2, p. 18).


1862 – William Bull Pringle sold Runnymede. At the time the acreage totaled 1,457 (2, p. 18).


1865 – The plantation house built by John Julius Pringle was destroyed by the Union army. It is believed that Charles C. Pinckney owned the house at this time (2, p. 18).


He used the property for phosphate mining (2, p. 18).


? – Pinckney built a house at Runnymede.


1995 – Runnymede remained in the Pinckney family for over a century until Floyd and Shirley Whitfield purchased it in 1995.


2002 – A fire of unknown cause destroyed the house built by Pinckney.

Land
Number of acres – 300 in 1705; 45 in 1777; 40 in 1841; 490 in 1845; 1,457 in 1862


Primary crop – Charles C. Pinckney mined phosphate on the property

Owners
Alphabetical list – John Cattell; Abraham Ladson; Lambert Lance; Charles C. Pinckney; Mrs. Charles Cotesworth Pinckney; John Julius Pringle; William Bull Pringle; Floyd and Shirley Whitfield

Slaves
References & Resources
30-15 Plantation File, held by the South Carolina Historical Society

Contact Information
Runnymede Plantation
6518 Dorchester Road
Charleston, SC 29418


Telephone: 843-469-8169
Website: Click here