Stiles Point Plantation – James Island – Charleston County
---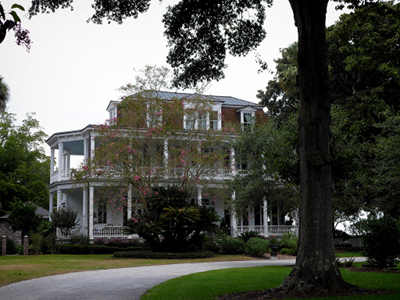 — Stiles Point Plantation © Gazie Nagle, 2014 —
(Do Not Use Without Written Consent)
Basic Information
Location – Ashley River, James Island, St. Andrew's Parish, Charleston County

Located at 940 Paul Revere Drive (1, p. 1)


Origin of name – For the plantation's founder, Benjamin Stiles


Other names – Stiles-Hinson House (1, p. 1)

Current status – Privately owned

Timeline
1741 – Earliest known date of existence

1742 – One-half story house built by Benjamin Stiles (1, p. 2).


1891 – House enlarged by William Hinson. In essence, Hinson built a second house that is two-half stories and connected the two structures with a flat roof (1, p. 2).


1960 – William Hinson Mikell owned Stiles Point Planation.


1974 – C.O. Thompson III owned the plantation and was restoring the house (1, p. 1, 5).

Land
Number of acres – 1.36 in 1974 (1, p. 4)

Primary crop – Sea island cotton (1, p. 6)

In the twentieth century, the farm produced cabbage and green beans.


The Stiles family cemetery is located at Stiles Point Plantation (1, p. 3).

Owners
Chronological list – Benjamin Stiles; William Hinson; William Hinson Mikell (1960); C.O. Thompson III (1974)

Slaves
References & Resources
National Register of Historic Places
– Nomination form - PDF - submitted in 1974
– Photographs, architectural overview

30-15 Plantation File, held by the South Carolina Historical Society

More about Charleston & James Island