Westpenny Plantation – West Ashley – Charleston County
---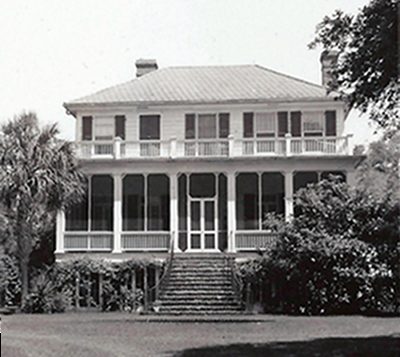 — Westpenny Plantation © Contributed by Sara Bowers Bowen, Circa 1949 —
(Do Not Use Without Written Consent)
Basic Information
Location – West Ashley, St. Andrew's Parish, Charleston County

Original plantation lands were located southwest of Charles Towne Landing State Historic Site at 2 St. Augustine Drive along SC 171 in the vicinity of Wespanee Subdivision.


Origin of name – Modified from the Native American name for the land, Wespanee

Other names – Wespanee, Fairfield (6)

Current status – No longer exists. All of the land has been developed.

Timeline
Land
Owners
Chronological list – Francis Blanshaw (1697-?); Peter LeSade (?); Anne LeSade Girardeau (?-1723); Andrew DeVeaux (1723-1770); Alexander Perronneau Jr. (1772-?); Ann Horry Trust (1776-?); Elias Horry (?); Harriet Horry Frost (?); Charles Stevens Dwight (1916-1963); Wespanne Land Corporation (1963-1965); C. Capers Smith (1965-?); Col. Walter B. and Ellen P. Clark (1972-?)

Slaves
Buildings
There had been earlier houses on the property before the one built by Dwight. It is believed Federal troops may have burned one in 1865 (6).

References & Resources
Rosina Sottile Kennerty, Plantations on the South Side of Ashley River (Charleston, SC: The Nelson Printing Corporation, 1983)
Order Plantations on the South Side of Ashley River
30-15 Plantation File, held by the South Carolina Historical Society

Buist Real Estate File, South Carolina Historical Society
– Online Catalog
Petrona Royall McIver, History of Mount Pleasant, South Carolina (Mount Pleasant, SC: Christ Church Parish Preservation Society, Inc., 1995)
Order History of Mount Pleasant, South Carolina
Robert P. Stockton, Plantation's History Began with Land Grant in 1697 (Charleston, SC: The Evening Post, April 16, 1990)