Holladay Plantation – Ox Swamp – Clarendon County
---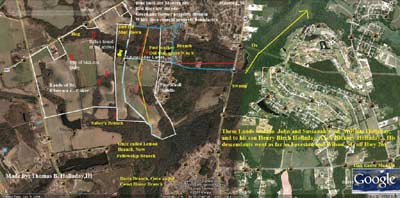 — Holladay Plantation © Thomas Bailey (Butch) Holladay III, click to enlarge —

(Do Not Use Without Written Consent)


Special thanks to Thomas Bailey (Butch) Holladay III for contributing the information on this page.

Basic Information
Location – Holladay Drive, Clarendon County

Origin of name – Named for the Holladay family

Other names – Old Holladay Place

Current status – Original acreage has been subdivided; all land privately owned with the Holladay family retaining approximately 166 acres

Timeline
1805 – Earliest known date of existence

John Holladay purchased 868 acres

1812 – John died and his wife Sussanah Pulliam retained ownership of John's property until her death in 1819. John owned at least seven slaves at his death, which he willed to his children. One slave he had bought from his father's inventory sale after his death.


1819 – John and Sussanah's son James C. Holladay inherited the land after his mother's death. Total acreage at this point is unknown. Another son, William, also had lands in and around the Ox Swamp and Bear Creek areas, which then went to his son Henry Birch Holladay.


1844 – Upon James' death, his wife Mary Caroline Carr inherited the Holladay land. She had also inherited neighboring land from her father William Carr and combined the properties.


1889 – Mary Caroline's will stipulated that two of her sons, Neighbor Harvin Holladay and James Dunwoody Holladay, would each receive 120 acres. Neighbor received the western portion and James the eastern.


1904 – Neighbor died and left his second wife Maggie N. Holladay a total 172 acres as he had acquired additional acreage during his life.


1905 – Maggie divided the property in half giving her and Neighbor's son Andrew Mitchell Holladay 86 acres on the west and retaining the eastern 86 acres for herself and daughter Lizzie A. Holladay. Maggie died shortly after this division and Lizzie became sole owner of the eastern 86 acres.


1941 – Andrew died leaving his 86 western acres to his wife Virginia.


1951 – Lizzie died, willing her 86 eastern acres to her nephew Milton R. Holladay Sr.


1955 – Virginia died and left her property to Thomas Bailey Holladay Sr.


1956 – Mitchell L. Holladay, received 1 acre from his brother, Milton R. Holladay Sr.


1960 – Thomas built a home and deeded the western 86 acres to his brother Milton R. Holladay Sr. When Milton received the eastern 86 acres he rejoined property to be a total of 172 acres once again.


1981-1982 – Milton R. Holladay Sr. gave a total of four acres to two of his sister's, Lynnette Holladay Therrell, children.


1988 – Milton R. Holladay Sr. deeded a one acre lot to an unrelated party. This left Milton with approximately 166 acres.


1994 – Milton R. Holladay Jr. inherited the approximate 166 acres upon the death of his father. Although a will was never probated, family lore talks of a will which states the grandchildren were to receive the land after Milton Sr.'s death.

Land
Number of acres – 868 in 1805; 240 in 1889; 172 in 1904; subdivided during the 1900s; reunited to 172 acres in 1960; 1980s approximately 6 acres subdivided; approximately 166 acres today including the Holladay Family Cemetery.


Primary crop – Soy beans, corn
Owners
Alphabetical list – Andrew Mitchell Holladay (1905-1941), James C. Holladay (1819-1844), James Dunwoody Holladay (1889-?), John Holladay (1805-1812), Lizzie A. Holladay (1905-1951), Maggie N. Holladay (1904-1905), Mary Caroline Carr Holladay (1844-1889), Milton R. Holladay Jr. (1994-present), Milton R. Holladay Sr. (1951-1994), Mitchell L. Holladay (1956-?), Neighbor Harvin Holladay (1889-1904), Sussanah Pulliam Holladay (1812-1819), Thomas Bailey Holladay Sr. (1955-1960), Virginia Holladay (1941-1955)

Slaves
Number of slaves – At least 7, named in 1812 will of John Holladay

Buildings
Four dwellings built between 1870-1960; a vacant, brick house is still visible

References & Resources