Board House Plantation – Yemassee – Colleton County
---
Basic Information
Location – Combahee River, Yemassee, St. Bartholomew's Parish, ACE Basin, Colleton County

5109 Combahee Road

Origin of name – Renamed Cherokee in 1930 after the South's wild Cherokee Rose (8, p. 72)


Other names – Blake Place, Cherokee


Current status – Exclusive hunting preserve and golf community, limited to 25 members


Comments – The Jeep Cherokee is named for this plantation. Former owner, Robert Beverly Evans, was the head of American Motors.

Timeline
1690 – Earliest known date of existence


Part of land grant to Joseph Blake


1710 – Original house built


1803 – William Blake died and left the plantation to his son Daniel Blake (8, p. 69).


The main house and outbuildings were destroyed by fire during the Civil War (8, p. 72).


1873 – Daniel Blake died leaving Board House to his son Frederick R. Blake (8, p. 72).


1930 – Caroline and W.R. Coe purchased the plantation from the Blake family and set-out to make it their winter home. The Coes hired the landscape firm that designed Central Park in New York to layout the grounds and had architects travel to Europe to purchase pieces that the plantation's house would be designed around. The Coes also renamed the plantation Cherokee after the native flower, Cherokee Rose (8, p. 72).


? – The Williams Furniture Company purchased the plantation after Coe's death and used it as a hunt club (8, p. 73).


Early 1950s – R.L. Huffines purchased Cherokee and renovated the grand house. Huffines was on the board of ABC TV and entertained many celebrities at the plantation (8, p. 73).


1969 – Huffines sold Cherokee to Robert Beverly Evans, president of American Motors. Evans named the Jeep Cherokee after his plantation (8, p. 73).


? – Nerlich Corporation purchased the plantation from Evans then transferred ownership to N.V. Nerlich (8, p. 73).


1987 – J. Randolph Updyke purchased Cherokee from the South Carolina Bankruptcy Court (8, p. 73).

Land
Number of acres – 11,000 in 1930; approximately 7,000 present-day


Primary crop – Rice, cotton (8, p. 70)

Grounds designed by Frederick Law Olmsted (landscape architect who also designed the Biltmore Estate in Asheville and Central Park in New York City).

Slaves
Number of slaves – Daniel Blake owned a total of 559 slaves in 1860 at his plantations. Blake had a fine church built at Board House for the slaves and was known to be a humane master that fed and clothed the slaves well with moderate work hours assigned (8, p. 70).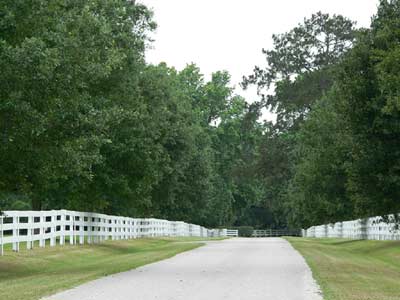 — Entrance to Board House/Cherokee Plantation © Gazie Nagle —
(Do Not Use Without Written Consent)
References & Resources
Melanie Wells, Million-Dollar Grits - 2000 Forbes article gives a glimpse into the exclusive present-day Cherokee Plantation

Cherokee Plantation, In the heart of the Lowcountry: Click here

30-15 Plantation File, held by the South Carolina Historical Society
Margaret F. Kemp, Colleton County, South Carolina: A Pictorial History (Dallas, TX: Taylor Publishing Company, 1994)

Lucius G. Fishburne, Plantation Notes, St. Bartholomew's Parish, 1960, held by the South Carolina Historical Society

Carolina W. Todd and Sidney Wait, South Carolina: A Day at a Time (Orangeburg, SC: Sandlapper Publishing Company, 2008)


N. Jane Iseley and William P. Baldwin, Lowcountry Plantations Today (Greensboro, NC: Legacy Publications 2001)


Suzanne Cameron Linder, Historical Atlas of the Rice Plantations of the ACE River Basin - 1860 (Columbia, SC: South Carolina Department of Archives and History, 1995), pp. 69-73.
Order Historical Atlas of the Rice Plantations of the ACE River Basin - 1860

Contact Information
Cherokee Plantation
5109 Combahee Road
Yemassee, SC 29945


Telephone: 843-844-8000
Website: Click here