Bonnie Doone Plantation – Walterboro – Colleton County
---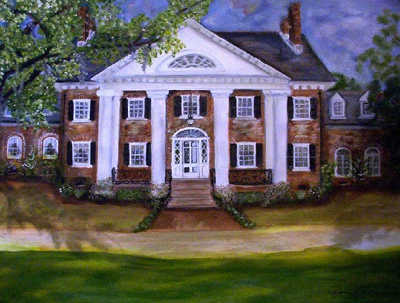 — Oil Painting of Bonnie Doone Plantation © Darlene Usry-Byrd, 2014 —
(Do Not Use Without Written Consent)
Basic Information
Location – Horseshoe Creek, a branch of the Ashepoo River, Walterboro, St. Bartholomew's Parish, ACE Basin, Colleton County

Follow SC 64 to Ritter Road and turn left onto Bonnie Doone Road


Origin of name – ?

Other names – ?

Bonnie Doone includes Ashland Plantation, Chessey Plantation, Dehon Plantation, Neyle Plantation, and Sterling Plantation.


Current status – Owned by the Charleston Baptist Association, operated as a camp and conference center

Timeline
1722 – Earliest known date of existence


Royal land grant given to William Hopton


1865 – Original house, outbuildings burned by Union troops


1931 – Rebuilt by New York stockbroker Alfred H. Caspary


The house is built in the Georgian style and has 32 rooms, including 12 bedrooms.

Circa late 1960s – Plantation purchased by the Charleston Presbytery of the Presbyterian Church of the United States.


Laurie Hanna Jones shares, "The Charleston Presbytery purchased the plantation and did a tremendous amount of renovation of the Big House and the other buildings which still stand today. They also built the in-ground pool and a recreational building which stands behind the caretaker's house. A bridge was built to what is known as Vesper Island and benches were built there for worship."

Land
Number of acres – At one time, the plantation comprised 15,000 acres. The present acreage is 131.


Primary crop – Rice

Although Sherman's troops burned the house in 1861, rice continued to be grown on the plantation until 1911. The rice fields are visible today.

Owners
Alphabetical list – Bischoff, A. H. Caspary (1931), Charleston Baptist Association (present), Charleston Presbytery of the Presbyterian Church of the United States (cira late 1960s-late 1970s), Chessey, Colcock, Dr. Theodore DeHon (1861), Delton, Eckhardt, Henry T. Ferguson (1846-1859), Fishburne, Wilmot S. Gibbes, Grace, Henderson, Sampson W. Leith, Neyle, Cotesworth Pinckney, Fishburne, Pringle, Rhett, Richmond, Paul Sanders (1931), Stokes, Wichman

Slaves
Buildings
Current mansion used in the movie Scarlett
References & Resources
Baptist Conference Center at Bonnie Doone: Click here

Claude Henry Neuffer, editor, Names in South Carolina, Volume I through 30 (Columbia, SC: The State Printing Company)
Order Names in South Carolina, Volumes I-XII, 1954-1965
Order Names in South Carolina, Index XIII-XVIII


Lucius G. Fishburne, Plantation Notes, St. Bartholomew's Parish, 1960, held by the South Carolina Historical Society


Sherry J. Cawley, Around Walterboro South Carolina: Postcard History (Charleston, SC: Arcadia Publishing, 1998)



Suzanne Cameron Linder, Historical Atlas of the Rice Plantations of the ACE River Basin - 1860 (Columbia, SC: South Carolina Department of Archives and History, 1995), pp. 79-80.
Order Historical Atlas of the Rice Plantations of the ACE River Basin - 1860

Contact Information
Baptist Conference Center at Bonnie Doone
5878 Bonnie Doone Road
Walterboro, SC 29488


Telephone: 843-893-3396
Website: Click here