Gregg Plantation – Mars Bluff – Florence County
---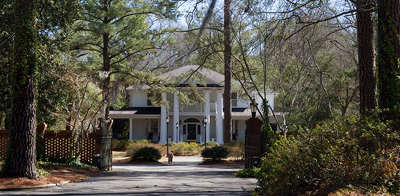 — Gregg Plantation © James (Jim) Jenkins, 2014 —
(Do Not Use Without Written Consent)
Basic Information
Location – Mars Bluff, Florence County

Wallace Drive


Origin of name – The Gregg family originally owned the property.


Other names – Gregg-Wallace; Wallace Hall; Wallace House


Current status – Some of the plantation's property is owned by Francis Marion University, including the house which serves as the president's home.

Timeline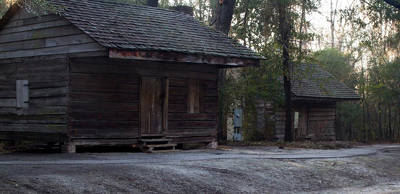 — Gregg Plantation Slave Cabin © James (Jim) Jenkins, 2014 —
(Do Not Use Without Written Consent)
Land
Slaves
Buildings
The plantation's first house, built in 1836, was lost to fire; the current structure was built in 1924 (5).


There were 8 slave cabins on the plantation in 1870. Some of these cabins were expanded into tenant farm houses throughout the first half of the 20th century. Two of the original hewn-timber slave cabins, circa 1831, still exist and have been moved to a different location on the campus of Francis Marion University (1) (4) (6).

References & Resources
Contact Information
Francis Marion University
4822 East Palmetto Street
Florence, SC 29506


Telephone: 800-368-7551
Website: Click here