Belle Isle Plantation – Winyah Bay – Georgetown County
---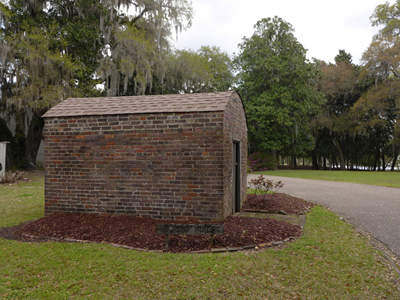 — Belle Isle Plantation Cooling House © Gazie Nagle, 2015 —
(Do Not Use Without Written Consent)
Basic Information
Location – Sampit River, Winyah Bay, Georgetown County

Origin of name – ?

Other names – ?

Current status – In 1970 William S. Johnston developed the property into a residental resort complex.

Timeline
1711 – Earliest known date of existence

The Lords Proprietors granted 48,000 acres to Landgrave Robert Daniell. The next day, Daniell sold 24,000 acres to Landgrave Thomas Smith, 12,000 acres of which were known as the Winyah Barony (2, p. 561).


1738 – Thomas Smith died leaving the property to his children and grandchildren (2, p. 561).


? – House built

1756 – Thomas Smith's son Henry Smith sold a piece of the property inherited from his father to Elias Horry II (2, p. 561).


1767 – Elias Horry II conveyed the property to son Elias Horry III (2, p. 561).


1773 – Elias Horry II sold 2,293 acres of land to his cousin Hugh Horry (2, p. 562).


1790 – Hugh Horry sold the property to his brother Peter Horry. Peter continued the plantation operations but did not live at Belle Isle (2, p. 564).


1815 – Peter Horry died after moving to Columbia two years earlier. His will divided his property with wife Margaret Guignard Horry inheriting Belle Isle (2, p. 565).


1817 – Margaret Guignard Horry died and left Belle Isle to niece Sarah Hall Horry Bay who would married William Mayrant (2, p. 565).


1840 – William Horry Mayrant took over management plantation for his mother after his father's death (2, p. 565).


1868 – Sarah Hall Horry Bay Mayrant conveyed Belle Isle to her grandson William Mayrant Richardson as her son had died three years earlier (2, p. 565).


1888 – William Mayrant Richardson had sold the plantation to Gardiner B. Penniman (2, p. 565).


1928 – Mrs. Penniman's brother, Frank Johnstone, bought the property and created a beautiful public garden, known as the Belle Isle Gardens, at the plantation (2, p. 565).


1929 – Mrs. Henry M. Sage of Albany, New York, signed a ten year lease to Belle Isle. She deemed the house unlivable and bought the Mendenhall house in Newberry County and moved it to Belle Isle. Frank Johnstone disassembled the old Belle Isle house and used what materials were salvageable to build a house at Mount Hope Plantation (2, p. 565) (3).


1935 – William N. Beach purchased nearby Rice Hope Plantation for use as a hunting preserve. Beach substantially increased the size of Rice Hope Plantation by purchasing several additional properties including part of Belle Isle (2, p. 656).


1970s – William A. Johnstone developed the property into a residential resort complex (2, p. 566).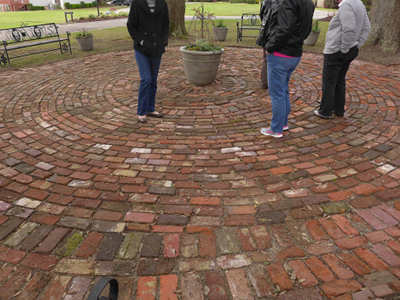 — Belle Isle Plantation Tea Garden © Gazie Nagle, 2015 —
(Do Not Use Without Written Consent)
Land
Number of acres – ?

Primary crop – Rice
Slaves
References & Resources
George C. Rogers, Jr., The History of Georgetown County, South Carolina (Spartanburg, SC: Reprint Company, 1990)
Order The History of Georgetown County, South Carolina
Suzanne Cameron Linder and Marta Leslie Thacker, Historical Atlas of the Rice Plantations of Georgetown County and the Santee River (Columbia, SC: South Carolina Department of Archives and History, 2001)
Order Historical Atlas of the Rice Plantations of Georgetown County and the Santee River
Information contributed by Gazie Nagle from the 2015 guide of the Episcopal Church Women of Prince George Winyah Episcopal Church Plantation Tour.