Brookgreen Plantation – Murrells Inlet – Georgetown County
---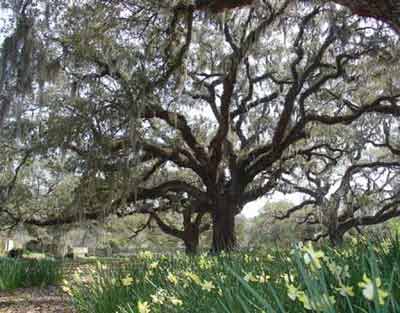 — Brookgreen Gardens © SCIWAY.net, 2008 —
(Do Not Use Without Written Consent)
Basic Information
Timeline
Land
Number of acres – 4,500 in 1978

Primary crop – Rice

Brookgreen Gardens consists of 4,500 acres which once were part of four seperate plantations, Brookgreen Plantation, Laurel Hill Plantation, Oaks Plantation, and Springfield Plantation. None of the houses are still standing.


The Alston family cemetery, once part of Oak Plantation, remains on the Brookgreen Gardens' property (1, p. 2).

Owners
Alphabetical list – William Allston (Circa 1760-?); Brookgreen Gardens, a Society for Southeastern Flora and Fauna (?-present); England (?); Flagg (?); Dr. Louis C. Hassell (Circa 1865-?); Archer Milton Huntington (1930-?); Mood (?); Joshua John Ward (1825-?); Withers (?)

Slaves
Number of slaves – 1,121 in 1860, this was the total number of slaves of the estate of Joshua John Ward (6, p. 19)
Buildings
The house no longer exists. The sculputure gardens now sit on the old homesite (1, p. 2)

References & Resources
National Register of Historic Places
– Nomination form - PDF - submitted in 1978
– Photographs, overview

30-15 Plantation File, held by the South Carolina Historical Society
Sharon A. Carlisle, George Washington's Guide to the Waccamaw Neck and Georgetown (Rice Told Tales) (Self published: 2004)


George C. Rogers, Jr., The History of Georgetown County, South Carolina (Spartanburg, SC: Reprint Company, 1990)
Order The History of Georgetown County, South Carolina
Suzanne Cameron Linder and Marta Leslie Thacker, Historical Atlas of the Rice Plantations of Georgetown County and the Santee River (Columbia, SC: South Carolina Department of Archives and History, 2001)
Order Historical Atlas of the Rice Plantations of Georgetown County and the Santee River
Charles Joyner, Down by the Riverside: A South Carolina Slave Community, Anniversary Edition (Champaign, IL: University of Illinois Press, 2009)


Contact Information
Brookgreen Gardens
P.O. Box 3368
Pawleys Island, SC 29585


Telephone: 800-849-1931
Website: Click here