Hobcaw Barony – Georgetown – Georgetown County
---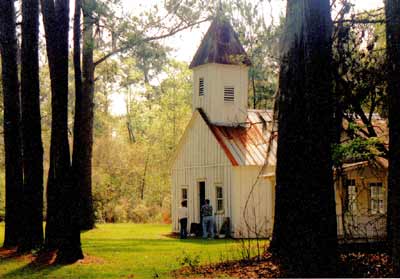 — Slave Church at Hobcaw Barony © Brandon Coffey —
(Do Not Use Without Written Consent)
Basic Information
Location – Waccamaw Neck, Georgetown, All Saints Waccamaw Parish, Georgetown County


The original lands of the barony were located one mile from the City of Georgetown off US 17 on the Waccamaw Neck, and were bordered by the Waccamaw River, Winyah Bay, and the Atlantic Ocean.


Origin of name – "Hobcaw" is a Native American word meaning between the waters. The Waccamaw Neck, where the barony was located, is bordered by three bodies of water.


Other names – ?

Current status – Owned by the Belle W. Baruch Foundation and is open to the public for guided tours.

Timeline
Land
Number of acres – 12,000 in 1718; 13,970 in 1730; 17,500 in 1935-present

Owners
Chronological list – Lord John Carteret (1718-1730); John Roberts (1730-?); Sir William Baker, Nicholas Linwood, and Brice Fisher; Bernard M. Baruch (1907-1943); Belle Wilcox Baruch (1943-1964), Belle W. Baruch Foundation (1964-present, 2013)

Buildings
The buildings that make up Hobcaw Barony today consist of both historic and modern structures scattered throughout the property. These structures are listed in the Nomination Form for the National Register of Historic Places on pages 7-20. Click here to view the list.

References & Resources
National Register of Historic Places
– Nomination form - PDF - submitted in 1994
– Photographs, architectural overview

History of Hobcaw Barony: Click here
Original, Historic Fabric Makes Hobcaw Barony Slave Cabin Stay Special - Joseph McGill, a program officer for the National Trust for Historic Preservation, documents his overnight stay in a slave cabin at Hobcaw Barony in August 2010.

Alberta Morel Lachicotte, Georgetown Rice Plantations (Georgetown, SC: Georgetown County Historical Society, 1993)
Order Georgetown Rice Plantations
Suzanne Cameron Linder and Marta Leslie Thacker, Historical Atlas of the Rice Plantations of Georgetown County and the Santee River (Columbia, SC: South Carolina Department of Archives and History, 2001)
Order Historical Atlas of the Rice Plantations of Georgetown County and the Santee River
Catherine Campart Messmer, South Carolina's Low Country - A Past Preserved Text (Orangeburg, SC: Sandlapper Publishing, 1988)

George C. Rogers, Jr., The History of Georgetown County, South Carolina (Spartanburg, SC: Reprint Company, 1990)
Order The History of Georgetown County, South Carolina
Contact Information
Belle W. Baruch Foundation
22 Hobcaw Road
Georgetown, SC 29440


Telephone: 843-546-4623
Website: Click here