Pine Grove Plantation – Georgetown County
---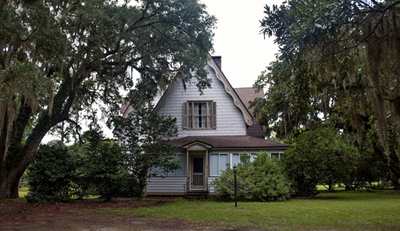 — Pine Grove Plantation © Brandon Coffey, 2014 —
(Do Not Use Without Written Consent)
Basic Information
Timeline
Prior to 1732 – Earliest known date of existence

Thomas Lynch received large land grants that stretched westward from the intracoastal way. Lynch called his property The Marsh Plantation (1, p. 623).


? – House built

1738 – Thomas Lynch passed away leaving most of his estate to wife Sabina Vanderhorst Lynch (1, p. 623).


1749 – Sabina died and son Thomas Lynch II took over the Lynch holdings (1, p. 623).


1776 – Thomas Lynch III inherited the property when his father died (1, p. 623).


1779 – Thomas Lynch III and his wife where lost at sea leaving no direct heirs. The land was divided between Thomas's three sisters. Esther Lynch inherited the land that was call The Marsh. She continued to operate the working plantation (1, p. 624).


? – Esther's will divided the plantation into four pieces with her nephew Dr. John Bowman Lynch inheriting the piece that would become Pine Grove (1, p. 624).


1830 – Dr. Lynch sold the property to James Reid Pringle (1, p. 624).


1840 – James Reid Pringle died leaving his estate to wife Elizabeth Mary McPherson Pringle (1, p. 625).


? – After Elizabeth's death, the estate was divided and distributed among their four children. Brothers James Ried Pringle Jr and Julius St. Julien Pringle inherited the eastern portion that would become Pine Grove (1, p. 625).


? – James Ried Pringle Jr purchased his brother's share and renamed his property Pine Grove Plantation (1, p. 625).


Circa 1863 – Pringle sold the plantation to George Alfred Trenholm. Trenholm also purchased nearby Ravenel Plantation (1, p. 626).


Prior 1876 – Trenholm transferred ownership of both plantations to son Alfred Glover Trenholm (1, p. 626).


2001 – Peter Manigault was owner and also owned Ravenel Plantation at the time (1, p. 626).

Land
Slaves
References & Resources
Suzanne Cameron Linder and Marta Leslie Thacker, Historical Atlas of the Rice Plantations of Georgetown County and the Santee River (Columbia, SC: South Carolina Department of Archives and History, 2001)
Order Historical Atlas of the Rice Plantations of Georgetown County and the Santee River
George C. Rogers, Jr., The History of Georgetown County, South Carolina (Spartanburg, SC: Reprint Company, 1990)
Order The History of Georgetown County, South Carolina