Waverly Plantation – Pawleys Island – Georgetown County
---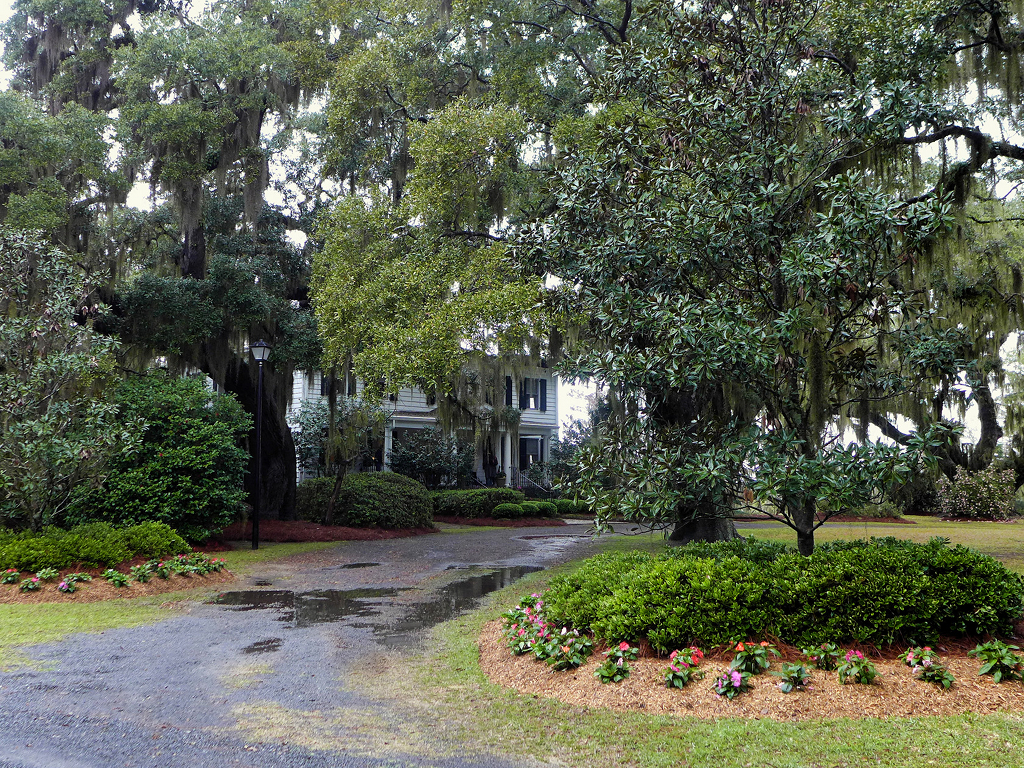 — Waverly Plantation © Gazie Nagle, 2014 —
(Do Not Use Without Written Consent)
Basic Information
Location – Waccamaw River, Pawleys Island, All Saints Waccamaw Parish, Georgetown County

3022 Waverly Drive - Original plantation lands were located in the vicinity of Waverly Mills, northwest of US 17.


Origin of name – Probably named after Sir Walter Scott's romantic Waverly novels.

Other names – Montpelier (until 1807)

Current status – Part of the land is privately owned and the rest is a residential community and golf course

Timeline
Early 1700s – Earliest known date of existence

Thomas Hepworth received three grants each containing 500 acres. This property would be the basis of Waverly Plantation, Litchfield Plantation, and Woodville Plantation (4, p. 133).


1728 – Thomas Hepworth died and the land passed to his son Thomas Hepworth Jr (4, p. 133).


1737 – Thomas Hepworth Jr divided his father's property and sold 109 acres to Percival Pawley. Over the years, Pawley had been acquiring land in the Waccamaw Neck so when he purchased the Hepworth property, his total acreage was up to 689 (4, p. 133).


? – House built

Pawley and his family lived at the plantation for 14 years so there must have been a house.


1745 – Percival Pawley sold his plantation to his brother George Pawley (4, p. 134).


1769 – William Pawley purchased what was known as Montpelier plus an addition 280 acres from his father George (4, p. 134).


1776 – William Pawley died without a will. His land was divided with the northern section going to grandson Dr. William Allston (4, p. 135).


Circa 1807 – Dr. Allston sold the plantation to Benjamin Allston Jr. Benjamin called the plantation Waverly. Benjamin had inherited Brookgreen Plantation from his parents but no longer owned it when he purchased Waverly (4, p. 135).


1818 – Joseph Waties Allston inherited Waverly after his father's death (4, p. 136).


1834 – Joseph Waties Allston died leaving Waverly jointly to his two young sons Joseph Blyth Allston and William Allan Allston with the boys' uncle, Robert F. W. Allston managing the plantation (4, p. 137).


1857 – Joseph Blyth Allston was old enough to take over management of Waverly (4, p. 137).


1871 – Allston sold the plantation to Philip Rossignol Lachicotte (4, p. 138).


Philip Rossignol Lachicotte and Sons invented and patented a "new and improved method" for cleaning rice. They added silica powder which enabled polishing machines to clean and whiten the grains in less time and with less breakage than before (4, p. 138).


The Lachicottes tore down the plantation's original house and built a grand house that still stands today (4, p. 138).


1896 – Philip Rossignol Lachicotte died and Waverly passed jointly to the two sons, Francis William Lachicotte and St. Julien Mustard Lachicotte. The brothers divided the property in half with each living on his section. The southern section fell out of the Lachicotte family and would be known as Rossdhu (4, p. 138).


2001 – The Lachicotte family still owned the northern division that retained the Waverly name and house (4, p. 138).

Land
Number of acres – 689 in 1737 (4, p. 133)


Primary crop – Rice
Slaves
Buildings
The house constructed by the Lachicottes is still standing and was still owned by the family in 2001.

References & Resources
30-15 Plantation File, held by the South Carolina Historical Society
– Online Catalog

George C. Rogers, Jr., The History of Georgetown County, South Carolina (Spartanburg, SC: Reprint Company, 1990)
Order The History of Georgetown County, South Carolina
Alberta Morel Lachiotte, Georgetown Rice Plantations (Columbia, SC: State Commercial Printing Company, 1956)


Suzanne Cameron Linder and Marta Leslie Thacker, Historical Atlas of the Rice Plantations of Georgetown County and the Santee River (Columbia, SC: South Carolina Department of Archives and History, 2001)
Order Historical Atlas of the Rice Plantations of Georgetown County and the Santee River