Wedgefield Plantation – Georgetown – Georgetown County
---
Basic Information
Location – Black River, Georgetown, Georgetown County


Original plantation lands were located off US 701 in what is today the Wedgefield Plantation Golf Club.


Origin of name – ?

Other names – ?

Current status – Residential community with golf course and country club

Timeline
Early 1700s – Earliest known date of existence

John Green received several land grants in the area. From these, the plantations of Wedgefield, Mansfield, Windsor, Beneventum and Peru would be developed (6).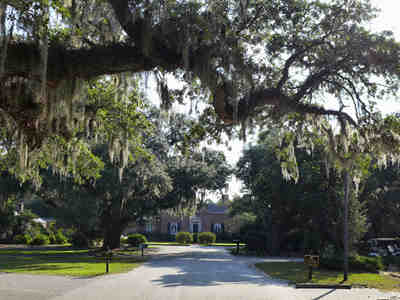 — Wedgefield Plantation Avenue of Oaks © Gazie Nagle, 2014 —
(Do Not Use Without Written Consent)
Land
Number of acres – 520

Primary crop – Rice
Slaves
Buildings
Over the course of Wedgefield's long history, three different houses have been built.

References & Resources
Alberta Morel Lachicotte, Georgetown Rice Plantations (Georgetown, SC: Georgetown County Historical Society, 1993)
Order Georgetown Rice Plantations
Suzanne Cameron Linder and Marta Leslie Thacker, Historical Atlas of the Rice Plantations of Georgetown County and the Santee River (Columbia, SC: South Carolina Department of Archives and History, 2001), pp. 441-444
Order Historical Atlas of the Rice Plantations of Georgetown County and the Santee River
George C. Rogers, Jr., The History of Georgetown County, South Carolina (Spartanburg, SC: Reprint Company, 1990)
Order The History of Georgetown County, South Carolina
Mansfield Plantation History: Click here

Contact Information
Wedgefield Plantation Country Club
129 Clubhouse Lane
Georgetown, SC 29440


Telephone: 843-448-2124 or 843-546-8587