McLaurin-Roper-McColl Plantation – Clio – Marlboro County
---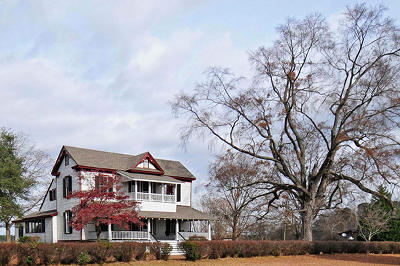 — McLaurin-Roper-McColl Plantation © Bill Fitzpatrick, 2012 —
(Do Not Use Without Written Consent)
Basic Information
Timeline
Circa 1826 – Earliest known date of existence


Daniel Calhoun McLaurin acquired the first tract of property in this area. He would eventually purchase eight tracts in total (1, p. 3, 16) (3).


Circa 1850 – A two room addition was added to the house to replace the original kitchen and to add a dining room (1, p. 3).


1858 – Daniel Calhoun McLaurin died leaving 16 heirs. With so many heirs, it was impossible to divide his property equally among them so it was all sold and the proceeds distributed (1, p. 17).


1858 – 23 year-old George R. Hearsey bought the homestead tract for $5,584 in November (1, p. 17).


1863 – Hearsey sold the plantation to John Wesley Roper for $15,180 in Confederate currency (1, p. 18).


An alternate line of ownership has the plantation passing from Daniel Calhoun McLaurin to his wife Mary McDaniel McLaurin to their daughter Harriet Virginia McLaurin who married John Wesley Roper (3).


After the Civil War, the plantation's lands were farmed by tenant farmers. In 1941, 11 tenant houses were located here (1, p. 10).


1894 – John Wesley Roper died and his second wife Lucy Ellen McColl Roper managed the plantation (1, p. 20) (3).


1899 – The Roper family added a two-story addition to the house (1, p. 3).


1916 – Lucy divided the 529 acres of the plantation among her children Eulah Roper McColl, Delle Roper Worth, John McKenzie Roper, and Thomas Wesley Roper plus a portion to her step-son Daniel Roper prior to her death in 1917. Euhlah and her husband Hugh McColl retained the house and began calling it Broad Oaks for the massive oaks that shaded the side yard. The children continued to farm the property (1, p. 3, 20, 23).


1946 – Eulah passed was and preceded in death by Hugh. Her will stipulated the 161 acre property not be subdivided but pass as one piece to her grandchildren. Eulah's oldest son Hugh Glenn McColl and his family resided in the house for the next several years (1, p. 24).


1961 – The kitchen and bathroom were updated and modernized. Eulah's children and grandchildren pitched in to pay for the repairs and used the house a vacation home (1, p. 24).


1978 – Eulah's 161 acres was divided into six equal tracts. Descendant Dorothy Lupold receive the tract with the house (1, p. 24).


1988 – Dorothy Lupold died leaving the property and house to her sons Hugh McColl Lupold and John S. Lupold. Hugh has been maintaing the house (1, p. 24).

Land
Number of acres – 446 in the early 1800s; 529 late 1800s; 161 in 1916 (1, p. 3, 24)

Primary crop – Livestock and cotton historically with soybeans, cotton and tobacco in modern times (1, p. 10, 17)
Slaves
References & Resources
National Register of Historic Places
– Nomination form - PDF - submitted in 2011
– Photographs, architectural overview

McLaurin Roper McColl Farmstead - SCIWAY's South Carolina Picture Project

Information contributed by Joy Cornwell whose daughter is a descendant of the McColls.