Connor Station Plantation – Orangeburg County
---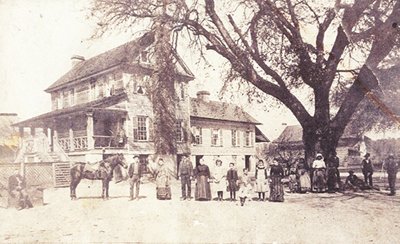 — Connor Station Plantation, 1860s © Contributed by Glen Gardner —
(Do Not Use Without Written Consent)
Frederick and Martha Jane Rebecca Mims Connor are in the middle;
Henry Dollason, the plantation's blacksmith, is seated at the left;
Jacob "Buddie" Sylvanus Connor, Fred and Martha's youngest son,
is next to the horse/mule (4)

Basic Information
Timeline
1848 – Earliest known date of existence

1848 – House built by Frederick Connor

1880s – Eutawville Railroad Company built a line through the area. The railroad stopped at Connor's depot three times a day to pick up lumber, bricks, mail and passengers. There was also a post office for the 250 population settlement around the house.


2016 – Glen Gardner along with several family members own Connor Station (3).

Land
Number of acres – ?

Primary crop – Rice

The Connor family silver and three Yankee soldiers are buried on the grounds.

Slaves
Number of slaves – 28 in 1860 (4)

Buildings
The buildings on the land were the cotton gin, brick kiln, saw mill and turpentine distillery.

References & Resources
30-15 Plantation File, held by the South Carolina Historical Society

Information contributed by Connor descendant Martha Rose Brown.