St Julien Plantation – Eutawville – Orangeburg County
---
Basic Information
Location – Eutawville, St. John's Berkeley Parish, Orangeburg County

11786 Old No. Highway 6


Origin of name – Named for Joseph de St. Julien


Other names – ?

Current status – Farm that has been operated by the Norris family for over 100 years (4).

Timeline
Land
Number of acres – 1,500 in 1860; 1,027 in 1980 (1, p. 3 and p. 5)

Owners
Alphabetical list – Gaillard; Frederick Keating Norris Sr. (1926); Fred K. Norris Jr. (1980); Robert Norris (?-present, 2013); Julias Theodore Porcher (1854); Joseph de St. Julien (1736-?)

Slaves
Number of slaves – 121 in 1860 (1, p. 3)

Buildings
The plantation house is L-shaped of two-stories with a one-story wing on the west. In 1980, original outbuildings including a mule barn, kitchen, and smokehouse were still standing (1, p. 2).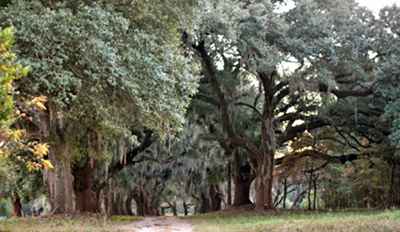 — St Julien Plantation Avenue of Oaks © Brandon Coffey, 2014 —
(Do Not Use Without Written Consent)
References & Resources
Contact Information
St. Julien Plantation
11786 Old No. Hwy 6
Eutawville, SC 29048


Telephone: 803-492-7556
Website: Click here