Goodwill Plantation – Eastover – Richland County
---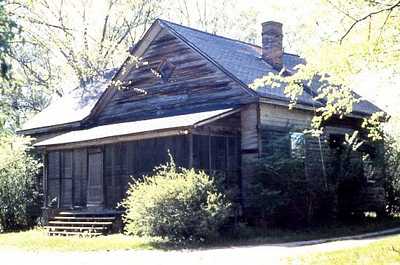 — Goodwill Plantation • National Register of Historic Places, 1986 —
(Do Not Use Without Written Consent)
Basic Information
Location – Wateree River, Eastover, Richland County, Richland District


Located southeast of the City of Columbia off US 378 on Goodwill Road


Origin of name – Named by Daniel Huger II, who bought 13 original 1760 colonial land grants to form the plantation


Other names – ?

Current status – Privately owned

Timeline
1795 – Earliest known date of existence


Daniel Huger II purchased and consolidated about 3,500 acres of unimproved land to form Goodwill. He began to construct a canal irrigation system to drain the land for agriculture (1, p. 2).


1827 – Daniel Elliott Huger (son of Daniel Huger II) acquired Goodwill after his father's death. He continued to plant cotton and subsistence crops like his father (1, p. 2).


1854 – Goodwill Plantation consisted of 7,465 acres (1, p. 3).


1858 – Edward Barnwell Heyward purchased Goodwill from Daniel Elliott Huger. He continued to plant cotton but also grew sweet potatoes, peas, beans, and corn. During the Civil War Heyward sent his slaves from his other plantations to Goodwill to wait out the war (1, p. 3).


1869 – George Wickes purchased the plantation. He operated a grist mill and a sawmill as well as produced some crops (1, p. 3).


1874-1888 – Goodwill Plantation changed ownership many times (1, p. 4).


1888 – Julia Clarke purchased Goodwill. She used convict labor to improve the property. Several tracts of the plantation's land were sold during the Clarke ownership (1, p. 4).


1910 – Samuel B. McMasters purchased the plantation. Under his ownership the plantation was used by tenant farmers, for timber production, and as a hunting and fishing preserve. Farming continued until the 1950s, and the grist mill ran until about 1944.


1986 – Goodwill Stock Company was owner of record (1).


Mid 1990s – Larry Faulkenberry purchased the plantation with the intent to sell it. However, he fell in love with Goodwill and has been caretaking and restoring the plantation instead (3) (7).


2013 – Larry Faulkenberry still owned Goodwill Plantation (7).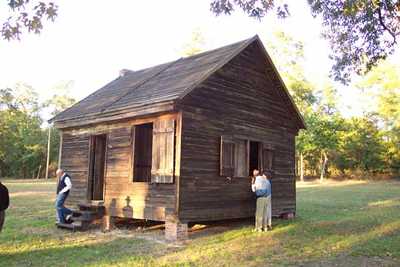 — Goodwill Plantation Slave Cabin • National Register of Historic Places, 1986 —
(Do Not Use Without Written Consent)
Land
Number of acres – 3,500 in 1795; 7,465 in 1854; 3,285 in 1986 (1, p. 1, 3)


Primary crop – Cotton, rice (7)

Owners
Chronological list – Daniel Huger II (1795-1827); Daniel Elliott Huger (1827-1858); Edward Barnwell Heyward (1858-?); George Wickes (1869-?); Julia Clark (1888-?); Samuel B. McMaster (1910-?); Goodwill Stock Company (1986); Larry Faulkenberry (Mid 1990s-present, 2013)

Slaves
Buildings
Several buildings that were constructed over the history of the plantation, remain on the property including overseer's house, mill building, slave cabins, blacksmith's shop, lodge and the main house (1, p. 2).

References & Resources
National Register of Historic Places
– Nomination form - PDF - submitted in 1986
– Photographs, architectural overview

Slave Cabin Project Moves to the Privately-Owned Goodwill Plantation - Joseph McGill, a program officer for the National Trust for Historic Preservation, documents his overnight stay in a slave cabin at Goodwill Plantation in July 2010

- source no longer available online



SC Highway Historical Marker Guide - online database by the SC Department of Archives & History

Claude Henry Neuffer, editor, Names in South Carolina, Volume I through 30 (Columbia, SC: The State Printing Company)
Order Names in South Carolina, Volumes I-XII, 1954-1965
Order Names in South Carolina, Index XIII-XVIII

Sammy Fretwell, Tour of Goodwill Plantation: High Bluffs, Deep Swamps and Gold (The State Newspaper: November 3, 2013)

- source no longer available online