Stirling Plantation – High Hills Section – Sumter County
---
Editor's Note: We have decided to refer to this plantation as Stirling simply because that is what people commonly call it today. The plantation has been known by several names – originally Ararat then subsequently Argyle and Stirling.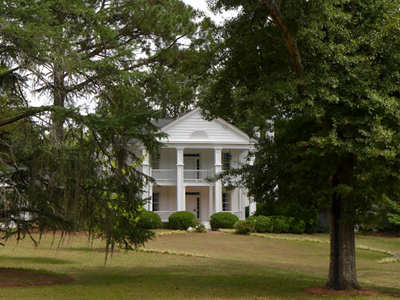 — Stirling Plantation © Gazie Nagle, 2014 —
(Do Not Use Without Written Consent)
Basic Information
Location – High Hills Section, St. Mark's Parish, Sumter County

SC 261 at McLaurin Road, about 3 miles south of Stateburg


Origin of name – ?

Other names – Originally called Ararat meaning "Here I Rest"; Stirling; McLaurin


Current status – ?
Timeline
? – Earliest known date of existence

Circa 1787 – House built (2)


John Gabriel Guignard built a house as a wedding gift for his granddaughter, Ann Richardson who married William Mayrant. The plantation was called Ararat at this time (2).


? – The plantation was sold to the McLaurin family after the deaths of Ann and William Mayrant. The plantation was renamed Argyle at this time (2).


1869 – House built by Dr. Henry J. McLaurin in the Greek-Revival style and was named Stirling, for Stirling Castle in Scotland.

Land
Slaves
Number of slaves – 95 in 1820 under William Mayrant (2)

Buildings
In 1885, a small school was built in the front yard of the Plantation. Prior to that, Mary Agnes McLaurin taught white preschool children in a room in the house at Stirling Plantation. She was followed by Catherine Louisa McLaurin. For six months each year Stirling was a public school. Parents paid the school expenses for the other three months.

References & Resources
Cassie Nicholes, Historical Sketches of Sumter County Volume II (Sumter, SC: Sumter County Historical Commission 1981)


Information contributed by Kellie Roughen.