Loch Dhu Plantation – Cross – Berkeley County
---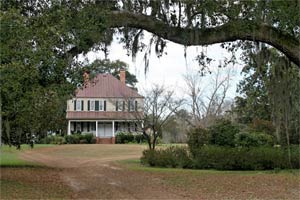 — Loch Dhu Plantation © Barry Gooch —
Special thanks to Elizabeth Simons for providing much of the information on this page, including the pictures below, and exclaims Loch Dhu "was a magnificent place to grow up."

Basic Information
Location – Cross, St. John's Berkeley Parish, Berkeley County


Located off SC 6 on Loch Dhu Lane


Origin of name – Loch Dhu gets her name from the Gaelic for black (Dhu) lake (Loch) which was a natural spring located near the house. The natural spring is now under Lake Marion but if you watch closely you can see movement in the water where the spring still flows. – Elizabeth Simons

Loch Dhu is pronounced as lock (läk) dew (doo)

Other names – Old Field, Markleys

Current status – Part of the property was submerged under Lake Marion. The plantation house still stands on the shores of the lake and is privately owned.

Timeline
1749 – William Kirk received an enormous tract of land from the King of England.


1812-1816 – house built by Robert James Kirk

? – Robert J. Kirk's son Philip C. Kirk would own Loch Dhu and continue to farm the land.


Elizabeth Simons shares, "During the Civil War Loch Dhu was used as a hospital for the Confederate wounded. (Dr. Kirk, of Loch Dhu saw service in the Civil War as a surgeon in the Confederate Army.) Union troop came to burn the house, but the women caring for the soldiers refused to evacuate the house, thus saving it."


1927 – Henry Berkeley Kirk died and was the last of the Kirk family line to own Loch Dhu.


1937 – Loch Dhu was purchased by Francis Kinloch Simons who also owned Lime Spring Plantation. Mr. Simons was a French Huguenot, descendant of Benjamin Simons of Middleburg Plantation, had purchased Loch Dhu for his son to farm.


2010 – Current owner is Francis Kinloch Simons III, grandson of Francis Kinloch Simons.


Elizabeth Simons tells, "Loch Dhu is definitely haunted. The family and many of their guests have heard the ghost walking up and down the upstairs halls. It sounds like a man with a heavy pace. It/he has also been heard on the upstairs part of the stairway."

Land
Number of acres – 810 acres in 1860

Primary crops – Cotton, Indian corn, sweet potatoes
Owners
Alphabetical list – Couturies; Francis Kinloch Simons III (?-current); Henry Berkeley Kirk (?-1927); Philip C. Kirk; Robert James Kirk; William Kirk (1749-?); Porcher; Sidney; Francis Kinloch Simons (1937-?)

Slaves
Number of slaves – 47 in 1829
Buildings
Elizabeth Simons describes, "the house is four rooms over four and has two front doors. The hallway downstairs and one bedroom (we used it as a bedroom) downstairs have old oak flooring. Apparently, Loch Dhu was used as a barn for sometime and the floors in those two areas rotted. The rest of the house has the original heart of pine flooring.


Outbuildings included a barn that was moved from Pond Bluff Plantation (Francis Marion's home) on one side of the house, a smoke house, a chicken coop, and the original kitchen. All of these outbuildings, except the kitchen, have been lost in storms.

Web Resources
Print Resources
30-15 Plantation File, held by the South Carolina Historical Society

Claude Henry Neuffer, editor, Names in South Carolina, Volume I through 30 (Columbia, SC: The State Printing Company)
Order Names in South Carolina, Volumes I-XII, 1954-1965
Order Names in South Carolina, Index XIII-XVIII


J. Russell Cross, Historic Ramblin's through Berkeley (Columbia, SC: R.L. Bryan Company, 1985)
Order Historic Ramblin's through Berkeley