Red Bank Plantation – Cooper River – Berkeley County
---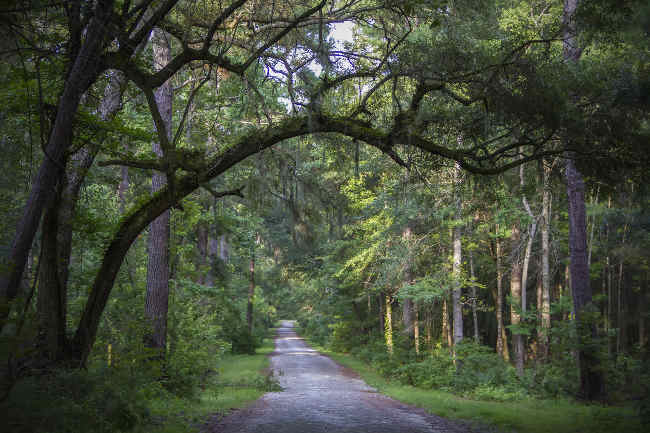 — Red Bank/Marrington Plantation Trail © Brandon Coffey, 2016 —
(Do Not Use Without Written Consent)
Basic Information
Location – Cooper River, Goose Creek, Berkeley County

Redbank Road


Origin of name – ?

Other names – Marrington

Current status – Location of Joint Base Charleston. Much of the property is maintained as a public recreational area but passes are required for use of the trails.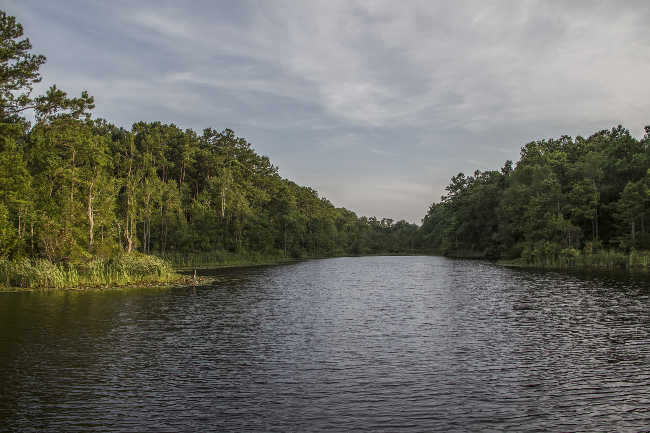 — Riverview at Red Bank/Marrington Plantation © Brandon Coffey, 2016 —
(Do Not Use Without Written Consent)
Timeline
1710 – Earliest known date of existence

Dr. Nathaniel Snow was issued a grant 400 acres by the Lord Proprietors. He soon added another 400 acres to double the size. Dr. Snow made bricks on the property (1, p. 221).


? – House built

1728 – Dr. Snow died. His will stipulated his son was to sell the whole 800 acres (1, p. 221).


1729 – Dr. Snow's son William sold the plantation to Alexander Nisbett. This transaction also included the sale of the 75-acre island in the marshes known as Snow Island (1, p. 221).


1733 – Nisbett sold the property to John Walker (1, p. 221).


1765 – Walker sold Red Bank to William Withers except for Snow Island and approximately 8 acres at the deep water of the river which was used as a landing. Red Bank Landing was critical for barges to load and unload (1, p. 221).


Prior to 1797 – Peter and Mary Tamplett became owners (1, p. 221).


? – Aaron Loocock purchased Red Bank. At this time, the property still excluded Snow Island and Red Bank Landing (1, p. 222).


1792 – Loocock sold 314 acres of Red Bank to Peter and Hanna Gray and the other section to Hugh Swinton. Swinton later purchased Snow Island and held a total of 666 of the original 800 ares of Red Bank (1, p. 222).


1795 – The Grays conveyed their 314 acres to son Benjamin Gray (1, p. 222).


Cicra 1803 – William Tennent formed a partnership with previous owner Joseph H. Ramsey. They purchased the larger section of Red Bank plus additional acreage in the area bringing Red Bank up to 966 acres (1, p. 224).


The Tennent and Ramsey families intermarried which lead to Red Bank be subdivided once again (1, p. 224).


1805 – Charles Tennent acquired 656 acres while William Tennent retained the other 356 acres (1, p. 224).


1813 – Alexander Kirk purchased the 356 acre tract (1, p. 225).


1856 – Mary Ramsey Tennent received as a gift from her father the 656 acre section (1, p. 224).


1871 – John Frederick Poppenheim purchased Brick Hope Plantation (then called Marrington Plantation) from the Graves family heirs. Poppenheim also owned Red Bank Plantation at this time. Both the Red Bank and Marrington names were used to describe Poppenheim's large estate (1, pp. 215, 225).


1880 – The census showed John Frederick Poppenheim owned and cultivated rice on the lands of Red Bank (1, p. 225).


1926 – Percy Orian Mead Sr. moved the area and began purchasing several pieces of land. He purchased most of the Marrington tract from Poppenheim and eventually ended up buying much of the traditional Red Bank / Marrington properties. Mead built a 32 room house with a dock on Goose Creek (1, p. 227).


1934 – Poppenheim died and willed 542 acres along the Cooper River to his daughter Ida Kodama "Poppenheim". Ida was not the Poppenheim's natural daughter, but the child of the Kodama family whom cultivated rice on the plantation. The Poppenheims raised Ida as their own although never legally adopted her. Poppenheim divided the rest of his Red Bank holding among the Kodama family (1, p. 227).


? – Stribling sold the plantation to Adolfus N. Mauncy after owning it for only a couple of years. Mauncy had been a business partner of Mead. Mead had persuaded his friend to purchase the property, which was referred to as Marrington at this time. Either Stribling or Mauncy built the Marrington house (1, p. 227).


1940s – Westvaco purchased both the Marrington and Red Bank properties. The Marrington house was used as a hunting lodge (1, p. 227).


1970s – Westvaco planned on building a paper mill along the river but the nearby US Navy installation was expanding and purchased the property for expansion and security of having the river as a boundary (1, p. 227).


1977 – The Marrington house, which the navy used as the Rod and Gun Club House, was destroyed in a fire (1, p. 227).

Land
Number of acres – 400 in 1710; 800 in 1728; 966 in 1803

Primary crop – Rice and cotton
Slaves
Number of slaves – ?

We are actively seeking information on the slaves who lived and worked at this plantation. If you find a resource that might help, please fill out this form. Thank you.

Buildings
There were two houses on Red Bank in the late 1800s. The Red Bank house as well as the Marrington house (1, pp. 225-226).

References & Resources
Michael J. Heitzler, Goose Creek: A Definitive History - Volume One: Planters, Politicians and Patriots (Charleston, SC: The History Press, 2005)


Henry A. M. Smith, The Historical Writings of Henry A.M. Smith (Spartanburg, SC: Reprint Company, 1988)
Order The Historical Writings of Henry A.M. Smith

Contact Information