Erwinton Plantation – Bull Pond – Allendale County
---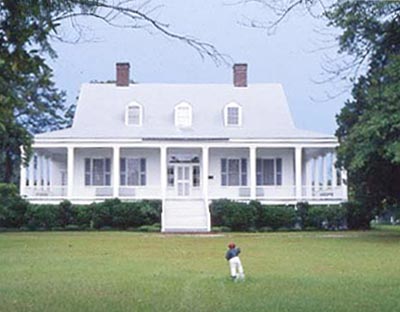 — Erwinton Plantation • National Register of Historic Places, 1975 —
(Do Not Use Without Written Consent)
Basic Information
Location – Bull Pond, Allendale County

4829 River Road - located off SC 3, south of US 301 (4)


Origin of name – ?

Other names – Erwin House, Erwinton Plantation and Hunting Club

Current status – Privately owned
Timeline
Land
Number of acres – Approximately 430 in the 1800s; 5 acres in 1975 (1, p. 2)

Primary crop – Cotton (1, p. 2)
Slaves
Number of slaves – ?

We are actively seeking information on the slaves who lived and worked at this plantation. If you find a resource that might help, please fill out this form. Thank you.

Buildings
The house is a one and one-half story, clapboard construction (1, p. 2).

References & Resources
National Register of Historic Places
– Nomination form - PDF - submitted in 1975
– Photographs, architectural overview

Claude Henry Neuffer, editor, Names in South Carolina, Volume I through 30 (Columbia, SC: The State Printing Company)
Order Names in South Carolina, Volumes I-XII, 1954-1965
Order Names in South Carolina, Index XIII-XVIII

Information contributed by Kenny M. Lacarter whose Jackson family slave ancestors are buried in the plantation's cemetery.